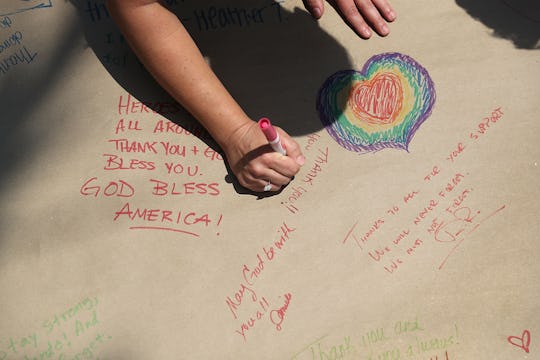 Joe Raedle/Getty Images News/Getty Images
Who Is Amanda Alvear? The Orlando Victim's Snapchat Provided Important Details
The horrific shooting at an LGBT nightclub in Orlando is now known as the worst mass shooting in American history. In the early morning hours on Sunday, a lone gunman stormed into Pulse nightclub and sprayed bullets into the crowd, leaving at least 49 people dead and dozens more injured. As doctors fear the death toll may keep rising, officials have been working tirelessly to identify the deceased. Added to the list on Monday was Amanda Alvear, the 25-year-old sent a Snapchat of herself that captured the moment the gunman opened fire. Since the news of her death, there's been an outpouring of love from those close to her who have described her as a fashionista with a joyful and positive outlook on life who deeply loved her family and had a bright future ahead of her.
Alvear loved to take selfies and to post about her life on social media. She updated her Snapchat story throughout the night of the shooting, starting with several videos of her and friends dancing and enjoying the night out.
In Alvear's last Snapchat, the sounds of at least a dozen gunshots can be heard and the camera is focused on her as she cries. Her brother, Brian Alvear, shared the Snapchat story his sister took inside the nightclub on the nigh of the massacre with ABC News. (Please note the video is very disturbing and may be extremely difficult for some to watch.)
Alvear may have tried to hide in the bathroom, but it's suspected that she may been one of the hostages taken.
"A lot hostages were in the bathroom, last I heard that's where she was," her brother told The Ledger. It was later confirmed that Alvear was one of the victims. One of Amanda's best friends, Mercedez Marisol Flores, also died in the shooting.
Her brother described her fun loving nature as contagious and said she was "meticulous" about letting her family, who she was very close with, know of her whereabouts.
"People got caught in her wake," her brother said in an interview with the The Orlando Sentinel. "Whatever she was doing, that's what they were going to do and have fun doing it."
Her brother said in the interview with the The Orlando Sentinel that Alvear and her friends often went to gay and lesbian clubs because she felt "safe" there. He also told the newspaper he's not angry, because that's not how is sister would want to be remembered.
"She wouldn't want anyone to spread hate for her," her brother told The Orlando Sentinel in the same interview. "She'd rather they spread more love, keep friends and family close, and have a good time doing it."
According to The Guardian, Alvear was from Davenport, Florida and was a nursing student at the University of South Florida. Her brother said she was working as a pharmacy technician as she worked her way towards a nursing career
The nation continues to mourn alongside Alvear's family and friends as we learn and remember how many lives she brightened and how deeply she'll be missed. "I'm going to miss you so much. Go in peace, sweet love," her cousin Joshua Davila said on Twitter. We can look to Alvear's positive and loving memory for inspiration and strength as we cope with this tremendous tragedy.