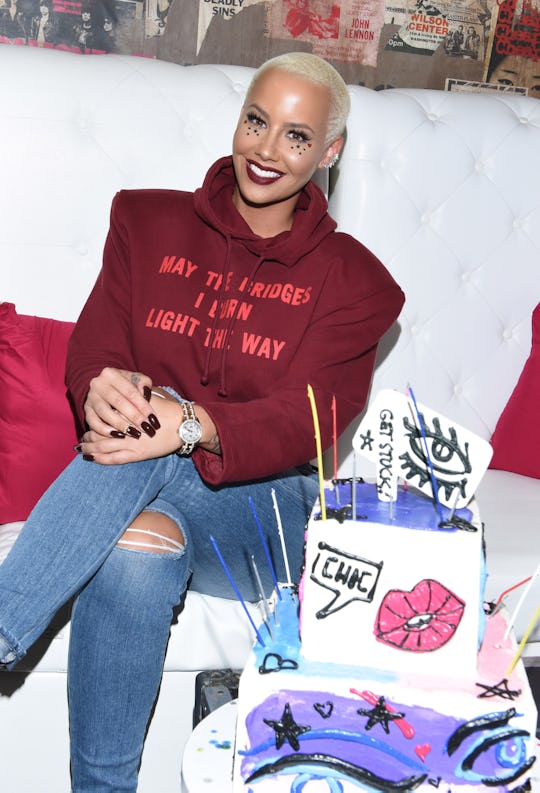 Vivien Killilea/Getty Images Entertainment/Getty Images
Who Is Amber Rose Dating? 'Dancing With The Stars' May Have Helped Her Find Love
Although Amber Rose's dance partner on Dancing with the Stars was Maksim Chmerkovskiy, when people ask the question — who is Amber Rose dating? — most think of Chmerkovskiy's younger brother, Val, who is still competing on the show alongside Olympic gymnast, Laurie Hernandez. Amber was eliminated from the show on Week 6, but it seems her friendship with her dance partner has since led to a relationship with his younger brother.
Rumors about the couple first began when they were spotted together at Amber's birthday party in late October. The two both posted cute pictures together of the event and seemed very close and cozy. To add further flames to the speculation fire, Amber and Val were spotted on their first public date out in L.A. the following weekend, but when asked about the potential relationship by Entertainment Tonight, Val refused to confirm or deny the rumors. "I can't control what people think," he remarked. "I live my life and I try to live it, you know, the way I want to live it."
Amber hasn't commented on the dating rumors yet either, but with each passing week it seems more and more likely that the two are more than just friends. On Halloween, the couple posed for photos together and although they didn't do a couple costume, they still looked very chummy in the pictures. Amber went as a dead version of The Little Mermaid, with red hair, a sparkly purple bra, and a sequined high-waisted green skirt. Val, along with his friends, went as a zombified Three Musketeers, with their faces painted white and black.
Amber and Chmerkovskiy seemed very close in the image (hence the very-telling pose). The two also took another photo with just the two of them that was even a bit more playful. So either something is going on between the two of them or their playing mind games with their fans. Either way, it's nice to see they can have fun with each other and it's clear they both know how to have a good time. Here's hoping, if they are together, that it works out.
You can watch Val in all his dancing glory on Dancing with the Stars on Mondays at 8 p.m. ET on ABC.