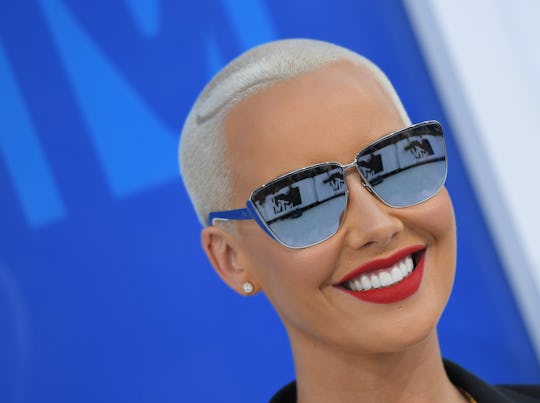 ANGELA WEISS/AFP/Getty
Who Is Amber Rose Dating? The 'Dancing With The Stars' Has One Important Man In Her Life
Amber Rose has dated some pretty famous men in her day, and these relationships have been fairly high profile, to say the least. In fact, it was honestly her relationship with Kanye West that launched the one-time video vixen into the celebrity stratosphere. Of course, the pair eventually broke-up, Rose became a personal branding machine, and now she's set to compete on Dancing With the Stars. I don't know even know who her boyfriend is at the moment. Who is Amber Rose dating? She appears to be with one certain someone, and he is not a rapper.
After her split with West, Rose began a relationship with Wiz Khalifa, whom she eventually married, and with whom she has one child. But, they divorced in 2016 after three years of marriage. As of early March, it looks like Rose had a new beau to squire her around town, the 25-year-old NBA star for the Toronto Raptors, Terrence Ross. My personal favorite tidbit of information about this romance is that it was announced right after the episode of Hollywood Medium in which Tyler Henry told Rose that she would soon meet a man associated with the letter "T" aired. Very interesting!
While the two looked pretty cozy and in love for a few months, it doesn't look like the relationship was meant to last. In June, just a few months after the couple announced officially that they were dating via gushy Instagram posts, the couple seemed to abruptly disappear from one another's lives. Ross allegedly posted and then quickly deleted a rather cryptic message to his Instagram, but not before it was spotted by Bossip, which allegedly reads, "If people refuse to look at you in a new light and they can only see you for what you were, only see you for the mistakes you've made, if they don't realize that you are not your mistakes, then they have to go." This message coincided with a sudden social media cleansing of one another from both parties. While it briefly looked like the two were suddenly back on after being spotted together shortly thereafter, there's no evidence of a relationship between the two anywhere on social media.
As of right now, it looks like the only guy with whom Rose will be dancing the night away is her Dancing With the Stars partner, Maksim Chmerkovskiy. And her son, Sebastian of course. And her ex, Sebastian's dad Wiz Khalifa, who she appears to still be on fantastic terms with. Honestly, it looks like she's doing just fine on her own, thanks.