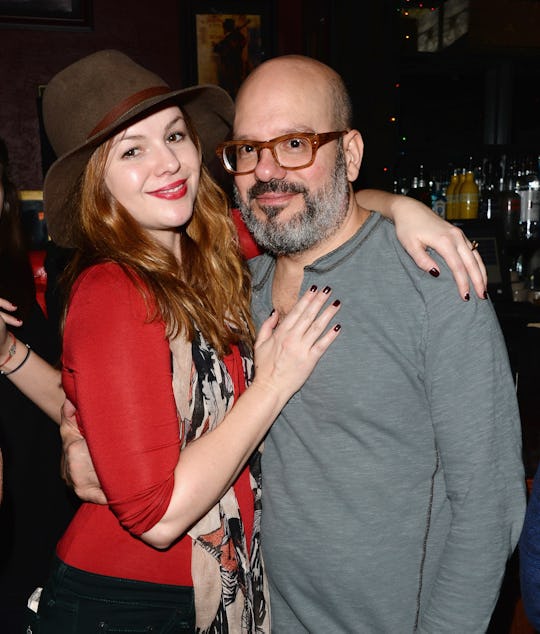 Andrew H. Walker/Getty Images Entertainment/Getty Images
Who Is Amber Tamblyn's Husband? David Cross Is The Funny Man Of Her Heart
Happy news for Amber Tamblyn: The 33-year-old actress revealed she is pregnant in an essay for Glamour on Wednesday. But she won't be raising her baby — a girl, Tamblyn also revealed — alone. So who is Amber Tamblyn's husband? 52-year-old comedian and actor David Cross has been married to Tamblyn since 2012, and this will be their first child together.
The couple might seem like an unlikely pairing, given their 20-year age difference. Tamblyn is an actress, director, and poet with credits such as Joan of Arcadia, The Sisterhood of the Traveling Pants, and most recently seen on Inside Amy Schumer. Cross is best known as Tobias Fünke from Arrested Development and again voiced Crane in Kung Fu Panda 3, released earlier this year. So how did Tamblyn and Cross meet? Turns out, it was their mutual mocking of the SkyMall catalog that brought them together.
While they had seen each other at various events throughout Los Angeles, California, it wasn't until the two shared a flight from Houston to Louisiana that they finally had an uninterrupted opportunity to chat each other up. Speaking at an event in 2012, Tamblyn recalled, "He was in the seat next to me and I was like, 'Oh my God, that's David Cross!'" They spent the remainder of the flight having a laugh at the SkyMall catalog — and the rest was history.
Tamblyn and Cross got married in a beautiful woodland wedding in 2012, surprising fans with the news a few days following the gorgeous event. Guests included musician and DJ Questlove as well as filmmaker Lance Bangs. Website Jezebel dubbed the event was "basically an alt-music festival," reporting that indie rock band Yo La Tengo played covers of everything from the Pixies to Superchunk. As this photo from Amber Tamblyn's Instagram shows, it looks like it was a truly laid-back, chill affair.
No matter the age difference, it's clear the two are still just head over heels for each other, with Tamblyn posting plenty of cute couple photos of themselves. As for Cross, he's a sharp-edged comedian whose social media seems focused mostly on the election, with his most recent Netflix comedy special, Making America Great Again, taking aim squarely at GOP presidential candidate Donald Trump. David Cross's Instagram is peppered with photos of his wife amid some truly blue humor, too. But what are Cross' thoughts about becoming a first-time dad?
While he hasn't said anything publicly yet, this tweet offers perhaps a little glimpse at his thoughts on impending fatherhood when responding to new American Academy of Pediatrics recommendations for parents sharing rooms with their babies until they turn 1 year old:
I'm sure there will be plenty of hilarity ahead for Tamblyn and Cross as they explore the wonderful world of first-time parenthood together. Congrats!