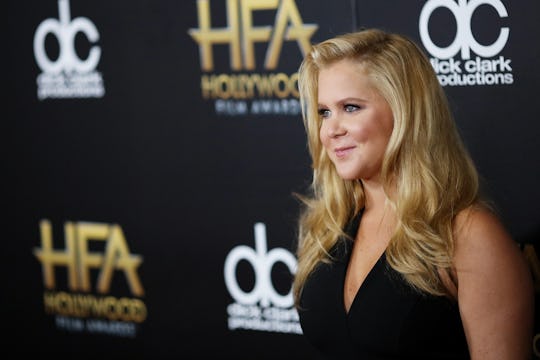 Mark Davis/Getty Images
Who Is Amy Schumer Dating? The 'Trainwreck' Star May Be Single, But She Has Plenty Of Options
Move over JLaw, Amy Schumer wants to date Bradley Cooper. Well, maybe she does. The truth is no one really knows who Amy Schumer is dating at the moment — but after mentioning in her Saturday Night Live monologue last October that she had talked to Cooper at the Time 100 Gala, Schumer joked, "I don't know how Hollywood works, but I'm pretty sure that I'm dating Bradley Cooper." (Update: Well, it seems as though Cooper has some competition — according to E! Online, Schumer is now dating Ben Hanisch, a "custom furniture maker" from Chicago who already has waxed poetic about the comedian on his Instagram: "Sometimes in life you get extremely lucky, and the smartest, funniest, most beautiful woman comes along when you least expect it. Here's to what adventures 2016 brings!" Aww.)
Maybe they should! In response to Schumer's comments, Cooper later told radio host Howard Stern that he thought Schumer was "very attractive." The American Sniper star also confirmed that the two had spoken for so long that evening that it was almost "creepy."
"I saw her at this [Time 100] event and she came over," Cooper recalled. "All that stuff of her getting called and me saying 'no, no, no' —that really happened... I thought I was getting a little creepy because I was making her stay." (Let's be honest, she was probably cool with it.)
In real life, it seems the comedian is very single. In late October, Schumer told Us Weekly that her "vagina remain[ed] vacant," and that there was a five dollar entrance fee. Five bucks? That's cheaper than most Starbucks orders — and given that she's got Cooper's endorsement, she could definitely stand to charge a little more.
If her imaginary engagement to Bradley Cooper doesn't work out, perhaps Schumer can call on best friend Jennifer Lawrence. In an interview with Glamour this month, Lawrence confessed that she and Schumer had planned an entire life together, completely devoid of guys. She joked,
Amy and I have a life plan. We were with Diane Sawyer in Martha's Vineyard for Thanksgiving, [and] Amy's always wanted to live on Martha's Vineyard.... We saw this house, and we're like, "This is where we're gonna Grey Gardens, and we're gonna grow old and crazy together." That's our life plan.
Without a doubt, the one thing Schumer definitely understands is how real the struggle of dating in a world full of happy couples can be. Luckily, she's not afraid to make a few risqué jokes about it. "I'm wearing one ring and that's in my body right now," Schumer joked during an interview with Chelsea Handler in April last year, referring to the birth control NuvaRing.
With so much on her plate, maybe it's better that the comedian remains single and able to rule the world. She's pretty good at it after all — and she's got the Golden Globe nomination to prove it.
Image: Mark Davis/Getty Images