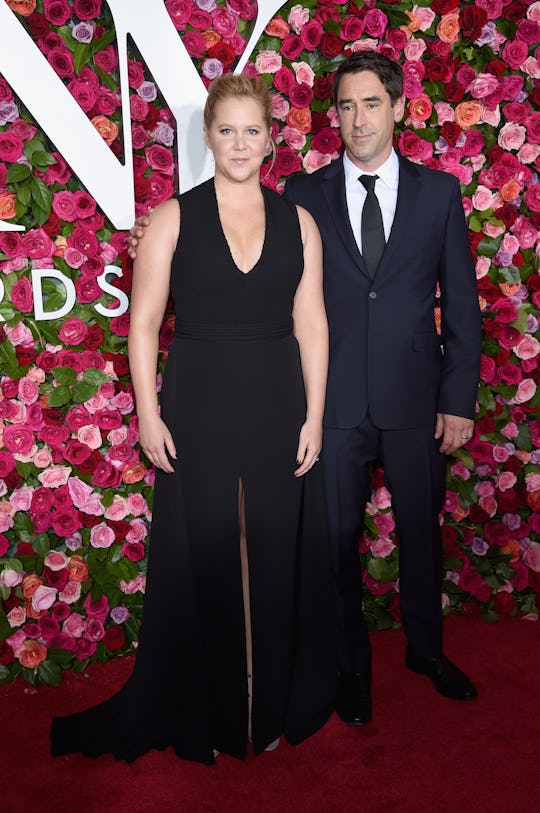 Dimitrios Kambouris/Getty Images Entertainment/Getty Images
Here's Everything You Need To Know About Amy Schumer's Husband & Dad-To-Be, Chris Fischer
Amy Schumer has done it again, announcing her first pregnancy with humor, flair, and in a way only she can pull off. But, given this exciting news, you might be wondering who Amy Schumer's husband is and how she and Chris Fischer met. After all, the comedian is notoriously private and has kept her marriage pretty low-key since tying the knot earlier this year.
Schumer made the announcement on the Instagram account of journalist Jessica Yellin, according to Elle. Earlier Monday she asked fans to follow Yellin, and teased that something might be up by photoshopping her and her husband Chris Fischer's heads onto the bodies of Prince Harry and a pregnant Meghan Markle. Yellin posted a list on her Instagram stories of the candidates Schumer is recommending for the 2018 midterm elections which ended with a pregnancy announcement.
It's the second time the I Feel Pretty actress has surprised fans in 2018, the first being with her unexpected marriage to Fischer, a celebrated chef. News of the marriage broke just two days after the pair went public with their relationship in February 2018, according to E! News.
But Schumer told Today that she and Fischer had been friends for about six months prior to starting to date. They were introduced by her assistant, who is Fischer's sister, when she suggested he cook a meal for her and Schumer, the actress explained on the Howard Stern Show, People reported. Once they began dating, Schumer told the Today hosts, she knew he was the one within a month.
She told Howard Stern that Fischer proposed in bed, waking her up (as she wore earplugs and a sleep mask!) to pop the question, People reported. He kept things simple, saying, "I got you this," as he showed her the ring. That feels just perfect for this low-key everygirl.
For her part Schumer kept things equally simple when planning the wedding, according to Good Morning America. She took no more than three or four days to plan everything, then simply sent a text to friends and family saying that she was getting married on Tuesday and she hoped they could be there, the outlet reported.
Fischer's star rose in the world of celebrity cooking when he met Mario Batali and became sous chef at B&B Hospitality's New York City restaurant, Babbo, according to E! News. After several years, he moved back to his family's farm in Chilmark, Mass. to run things, opening a small market on-site, Boston magazine reported. His 2016 cookbook based on his homespun creations, Beetlebung Farm Cookbook, won the high-profile James Beard award, the outlet reported.
But despite his high-class work, Schumer's husband is on-board for her hijinks. The two of them photobombed a young New York City couple who were having a wedding photoshoot, according to Inside Edition. She asked the bride-to-be if they could join in on the photo, posing in the same position. The site reported that Schumer has done similar photobombs twice before.
It sounds like a match made in heaven and, with this kind of humor, these two are certain to be great parents. Congrats to the happy couple!