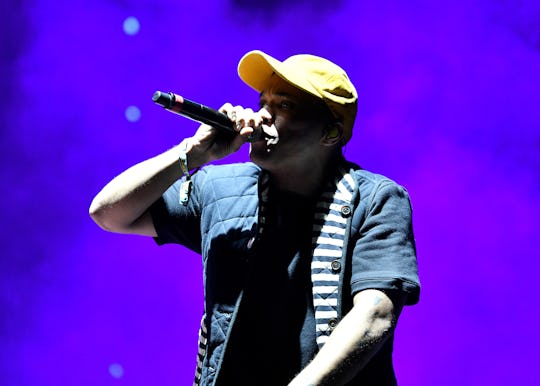 Mike Windle/Getty Images Entertainment/Getty Images
Who Is Anderson .Paak? The Best New Artist Nominee Used To Go By The Name Breezy Lovejoy
The 2017 Grammy Nominations just dropped on CBS This Morning, and while Beyoncé, Justin Bieber, and Adele took most of the nominations as expected, there were a few names on the list that had people scratching their heads. Who is Anderson .Paak? The Best New Artist nominee used to go by the name Breezy Lovejoy.
.Paak, 30, is a native of Oxnard, California. He released his debut album, O.B.E. Vol. 1, in 2012, under the pseudonym "Breezy Lovejoy." When he set out to record albums under his real name, he stylized his surname as ".Paak," which he explained in an interview with NPR's Morning Edition: "The dot stands for "detail" — always be paying attention to detail."
His most recent two albums, Venice in 2014 and Malibu, released this year, were both under his real name. When he was first starting out as a recording artist in LA, .Paak was offered a job by Shafiq Husayn of Sa-Ra working as a studio assistant. This gig enabled him to finish up his debut album, which he released under the name Breezy Lovejoy. He then set out to produce an album of covers inspired by the white artists of the 1950s who had recorded classic blues and jazz hits originally written and performed by people of color.
Cover Art was released in 2013, and included several hit songs by white artists recorded and transformed by .Paak in what he called "reverse homage."
.Paak has worked with Dr. Dre, and is signed to Dre's label, Aftermath Entertainment. He told NPR that his work with Dre has been highly influential on his career not just as a recording artist, but as a producer as well:
I was just kind of amazed that someone of his stature and success level is still really, really into the music. He had this excitement to him. It seemed like it was new to him, or at least when I came in. There was this vibe where he felt like he was so excited of what was to come and the things we were about to make. And you want to spend hours finding the right phrase and finding the right sounds. It was just inspiring to see that.
.Paak started his music career in church where he was a drummer. His mother was born in Korea and raised in Compton. She was estranged from .Paak's father throughout most of his childhood, but he did witness his father brutally attacking his mother when he was fourteen. Around the same time he began seriously attempting to write music in his childhood bedroom, and he didn't see his father again (according to .Paak, he was imprisoned for about 14 years after the assault).
.Paak's childhood spent drumming in the black baptist churches of his youth heavily influenced his sound. As he told Rolling Stone earlier this year, his introduction to his latest album Malibu, was, "I bring you greetings from the first church of boom bap-tists," referring to a sub genre of hip-hop called boom-bap, which .Paak feels is woefully underrepresented in the current music landscape. He took the style and made it a baseline for his album, but definitely created a sound that's truly his own. He came up with the "boom-baptist" pun while on the road. He was chatting with one of the producers, he told Rolling Stone: "We're both church kids — I listened to a lot of gospel with him. You get on the road and you start driving; you get a lot of time to think of clever shit."
While it might seem to some like .Paak is new to the scene, he's actually been around quite a while. He had six tracks on Dr. Dre's album Compton, and was named to XXL's Freshman Class after he killed it at Coachella this year, according to LA Weekly. Whether or not he's got a Grammy in his future, 2017 looks like it will be a great year for .Paak's music career. If the rest of us can take a lesson from .Paak's moniker and its message, paying attention to detail definitely seems to pay off.