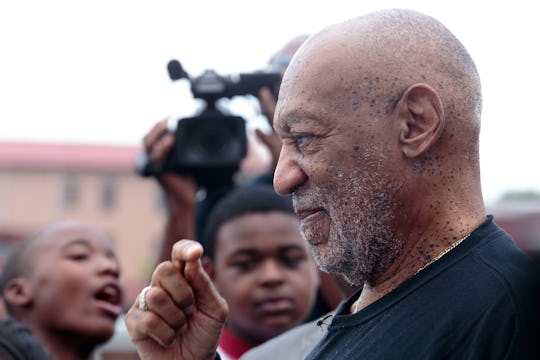 Who Is Andrea Constand? Bill Cosby Will Be Charged For Allegedly Assaulting Her In 2004
An arrest warrant was issued for Bill Cosby Wednesday morning for allegedly drugging and raping Andrea Constand in 2004, according to People. Who is Andrea Constand? Constand was a Temple University employee at the time and alleged that the rape took place at the Cosby's Elkins Park mansion in Montgomery County, Pennsylvania — where the warrant was issued. Constand was the first woman to come forward to accuse Cosby publicly. Cosby's representative, Christopher Tayback, did not immediately respond to Romper's request for comment.
In July, Constand filed new reports that called Cosby a "narcissist" who didn't pick up on any cues that she was gay and in a relationship with a woman at the time of the alleged attack, according to the Philadelphia Daily News. That allegation pushed back on Cosby's claim that what happened between them was consensual. Constand and Cosby were barred from talking publicly about the case by a confidentiality agreement from a 2006 settlement, but she has not stopped taking legal action against the comedian. Things have been heated between her and Cosby (and their lawyers) since Cosby accused of her violating that agreement this summer. Constand tweeted "yes!" and "sir" in succession after a federal judge in Philadelphia unsealed court filings containing excerpts of the deposition Cosby gave in her case, according to the Daily News. Her lawyer wrote:
In his narcissistic view of the world, [Cosby] believes that [Constand's] every tweet must be about him. He is as perceptive in this belief as he claims to be in his interpretation of nonverbal cues from women he wants to seduce.
Constand now lives in Canada and works as a massage therapist, but her lawyer, Dolores Troiani, told People magazine that they are hopeful. "We'll have to see what happens. We hope justice will be done. We will cooperate fully," she said.
Constand was an employee in the athletic department at Temple and she and Cosby were reportedly friends at the time. There were allegedly two other times Cosby made advances, but it wasn't until 2004, according to Constand, that she went to his house and said she was sexually assaulted. Constand has continued to fight for justice.
Her case was reopened after it became sort of an issue in the race for Montgomery County's district attorney position this past year. Democrat Kevin Steele, who won, released an ad slamming the Republican opponent for not bringing any charges against Cosby when he was district attorney back in 2005, according to the Daily News. Steele told CNN Wednesday that his office came across new information in July to bring the current criminal charges against Cosby.
It goes two ways: without Constand, the flood of other women accusing Cosby of rape might not have come forward. Likewise, because of their similar accusations, Constand's case was reopened and led to the arrest warrant today.
Images: David A. Smith/Getty Images