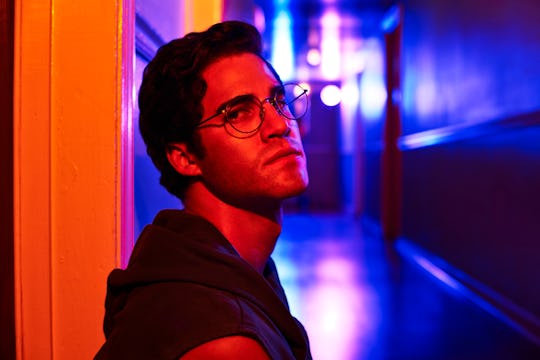 Pari Dukovic/FX
Darren Criss Takes On A Killer Role In 'The Assassination of Gianni Versace'
Though many people might know about the sudden and shocking murder of Gianni Versace in 1997, they might not know quite as much about the man who pulled the trigger and ended the life of one of the world's most famous designers. So who is Andrew Cunanan? In many ways, he's a mystery because no one knows exactly what set him off on the dark path that culminated with Versace's murder. FX's The Assassination of Gianni Versace attempts to connect the dots, but there are still so many questions that can never be answered.
Cunanan grew up in Southern California with his three older siblings, and he was reportedly the most spoiled of the Cunanan kids. His siblings Christopher and Elena spoke to Diane Sawyer on ABC's PrimeTime Live in 1997, shortly after their brother was discovered to be a murderer, and they seemed surprised by the direction his life took. Christopher said Andrew was "raised with special treatment" that included ownership of the master bedroom and education at an expensive prep school, but he "didn't have a violent bone in his body."
Andrew Cunanan proved his brother wrong later in life, when he killed five men in a spree that stretched over several months. He killed his friend Jeffrey Trail first, followed by his ex-boyfriend David Madson; his next three victims, however, did not share the personal connection. Lee Miglin and William Reese appeared to be unknown to Cunanan before he murdered them, obscuring his motives even further. Versace was his final victim. Eight days after killing him, Cunanan took his own life, meaning he was never able to be officially convicted for his heinous crimes.
After dropping out of college, Cunanan began to work as a escort for older, rich men, which gave him access to the kind of rarified life he craved. John Walsh, the host of America's Most Wanted, told ABC News that Cunanan's life was "like Lifestyles of the Rich and Famous. He's living in million-dollar homes in La Jolla. He's traveling to Europe, France, to Italy, to Spain. He's going to these social events that he never would have had a chance to go to otherwise."
It was on one of these jaunts that he may have first crossed paths with Gianni Versace, but it's unclear whether they ever actually met. ABC News reported that some say they met at a bar or party, while Vanity Fair indicated they could have met at the opera. Apparently Cunanan told acquaintance Eric Gruenwald about the celebrity run-in, saying, "I said, 'If you're Gianni Versace, then I'm Coco Chanel!'"
But Cunanan and Versace might not have actually met at all. Cunanan was known to lie, with the Washington Post reporting that at various times he claimed to have a wife and daughter, or said he grew up in Israel, or told people his parents were Russian immigrants. Despite Cunanan's penchant for stretching (or outright ignoring) the truth, people were still shocked that someone as charming and intelligent as he was turned out to be a killer.
That was something The Assassination of Gianni Versace sought to figure out, too. Without Cunanan around to interview, they went off the research done by Maureen Orth for her book about Cunanan's killings, entitled Vulgar Favors. Their interpretation, as stated by executive producer Tom Rob Smith to Variety, was that Cunanan was desperate for recognition — at any cost. Orth seemed to agree, also telling Variety, "He was willing to kill to become famous. Now you can be an Instagram star or a YouTube star. If he had been born later, maybe that's what he would have gone for, but he wanted to be famous that he was willing to kill for it."
But that is the show's speculation. Though FX and 20th Century Fox, as well as Ryan Murphy, have stated that they stand by Orth's work as factual, the Versace family has taken issue with the show. In the family's first statement, they made it clear that they were not involved with and had not authorized the show, referring to it as a "work of fiction." When that was disputed, they released a second statement. As reported by Entertainment Weekly, it says in part that "Orth never received any information from the Versace family and she has no basis to make claims about the intimate personal life of Gianni Versace or other family members."
The Assassination of Gianni Versace is based on true events, but it is a fictionalized series using secondary sources for information. Cunanan cannot speak for himself, and he robbed his victims of the chance to tell their own stories.
Check out Romper's new video series, Romper's Doula Diaries:
Watch full episodes of Romper's Doula Diaries on Facebook Watch.