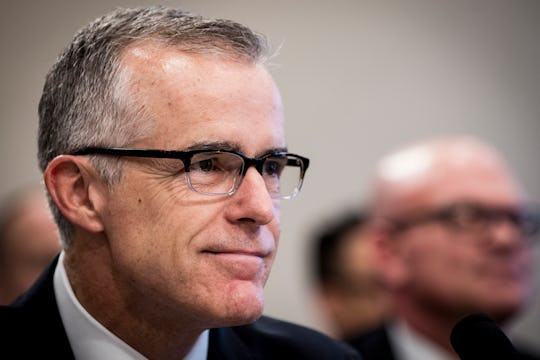 Pete Marovich/Getty Images News/Getty Images
FBI Deputy Director Andrew McCabe Is Stepping Down — Here's What You Need To Know
On Monday, word broke that FBI Deputy Director Andrew McCabe would step down, following weeks of public pressure from President Donald Trump, according to NBC News. But who is Andrew McCabe, and what does his resignation mean for the country? McCabe has a long history of public service, and some critics of the president think that the attacks on McCabe are an attempt to distract from Robert Mueller's investigation into the Trump campaign's potential collusion with Russia.
McCabe reportedly told a colleague on Monday that he would go on leave immediately, and then retire fully when he becomes eligible in mid-March, according to The New York Times. McCabe's move wasn't fully a surprise. He has reportedly been under attack for weeks now, according to NBC News, with Trump and other Republicans claiming that he has an anti-Trump bias, and that he wasn't able to be impartial when investigating Hillary Clinton's emails.
See, McCabe's wife, Dr. Jill McCabe, ran for the Virginia State Senate as a Democrat back in 2015, and was funded in part by money from a Hillary Clinton ally. This wasn't a secret, and it wasn't necessarily problematic — after all, it wasn't McCabe himself who ran for office, his wife's defeat happened before he became deputy director, and he disclosed it, according to The New York Times. But according to Vox, things began to get more controversial because of a text message sent by another FBI agent, Russian counterintelligence expert Peter Strzok.
The FBI did not immediately respond to Romper's request for comment, and neither did the White House.
Strzok was removed from his post after anti-Trump text messages he'd sent were made public. And in one of those text messages, he mentioned "Andy," indicating that there may have been an anti-Trump conversation in McCabe's office at some point, according to The Washington Post.
Trump had gone after McCabe before on Twitter. He also reportedly asked McCabe who he voted for in the 2016 presidential election, according to New York Magazine, and was not pleased when McCabe said he didn't vote. But after the news about the text messages became public, the tension intensified, coming via the president's favorite mode of communication — Twitter. On Dec. 23, for example, he wrote:
How can FBI Deputy Director Andrew McCabe, the man in charge, along with leakin' James Comey, of the Phony Hillary Clinton investigation (including her 33,000 illegally deleted emails) be given $700,000 for wife's campaign by Clinton Puppets during investigation?
Some other Republicans also expressed concerns about McCabe's ability to be impartial, including Iowa Sen. Chuck Grassley, who suggested that McCabe may have used his government email account to advocate for his wife's candidacy, according to The Hill.
At a press briefing on Monday, press secretary Sarah Huckabee Sanders claimed that Trump did not have anything to do with McCabe's ouster, saying, "The president wasn't part of this decision-making process," as Variety reported.
But that's not the way that the president's critics see it. Many reacted to the news that McCabe was leaving earlier than expected (and, it seems, not entirely of his own volition) with dismay and dread. To Trump's critics, it seemed to be only the latest example in a pattern of the president actively removing or pressuring dedicated public servants to leave their posts the moment they did not prove themselves amenable to everything he wanted.
And as former Attorney General Eric Holder tweeted:
FBI Deputy Director Andrew McCabe is, and has been, a dedicated public servant who has served this country well. Bogus attacks on the FBI and DOJ to distract attention from a legitimate criminal inquiry does long term, unnecessary damage to these foundations of our government.
Trump allegedly tried to fire Mueller, the man investigating him and his campaign, back in June, according to TIME. Many people who care about obstruction of justice and, you know, the fate of the country, are worried that Trump will try again. Now, with McCabe seemingly being forced out, action against Mueller seems like it could be even more likely.