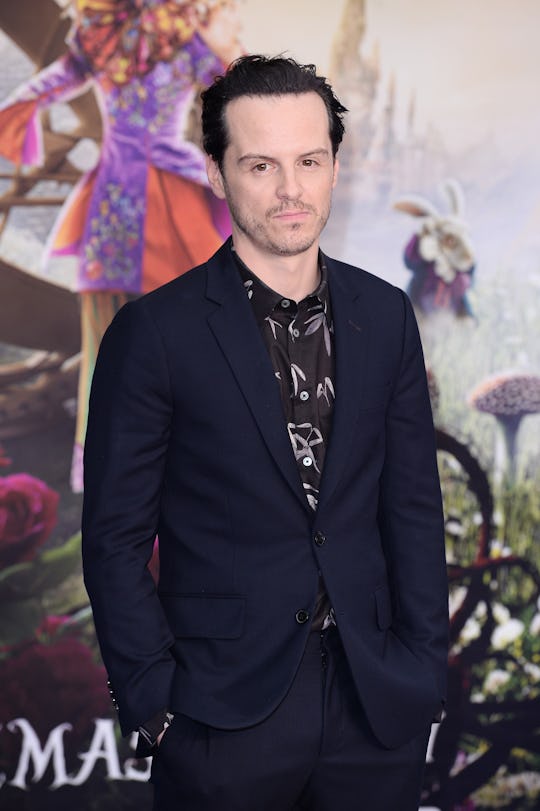 Jeff Spicer/Getty Images Entertainment/Getty Images
Who Is Andrew Scott? The 'Alice Through The Looking Glass' Actor Plays Dr. Addison Bennett
The upcoming film Alice Through the Looking Glass brings fans back into the magical world of Alice and her quirky friends that many of us grew up with. The film is full of incredible actors and talent reprising their roles from the first film (Alice in Wonderland) and there is no short of talent that audiences are sure to take note of. One particular actor that was not in the first film, but takes an important role in the second film is Andrew Scott. So, who is Andrew Scott in Alice Through the Looking Glass?
While you may be familiar with some of Scott's work, you may not be able to place him in what role you know him from. The actor has had a very successful career, and there's no doubt that this movie will widen his recognition and name within the industry and with audiences. He's played a wide variety of roles, from good to evil, proving there's nothing he can't take on. While Dr. Addison Bennett isn't in many scenes in the upcoming film, you won't forget him when you walk out of theaters. This is really no surprise, since he has such a great resume.
Scott started building his career in 1995. With a few roles in major movies — for example "Soldier on the Beach" in Saving Private Ryan — Scott didn't sore into the forefront until more recently. Think of his career as a slow burn. He played Colonel William Smith in the TV mini-series John Adams (2008), which also stars Paul Giamatti and Laura Linney. He's also had roles in Little White Lies, Lennon Naked (playing Paul McCartney), The Hour, Blackout, and the mini-series The Town.
In 2015, he played C in James Bond's Spectre, a member of the British government. He also had a role as Inspector Turpin in the 2015 film Victor Frankenstein. But, perhaps he's best known for his antagonist role in Sherlock, starring opposite Benedict Cumberbatch as Moriarty. Yes, Sherlock's nemesis that we all hate (and, OK, love to hate a little.)
Looking into the future, Scott is set to star in Denial, Swallows and Amazons, This Beautiful Fantastic, and Handsome Devil, proving that there's no stopping his reach in the entertainment industry. And, judging by how fans are certainly going to respond to his role in Alice Through the Looking Glass, it's a good thing there's no stopping Scott right now.