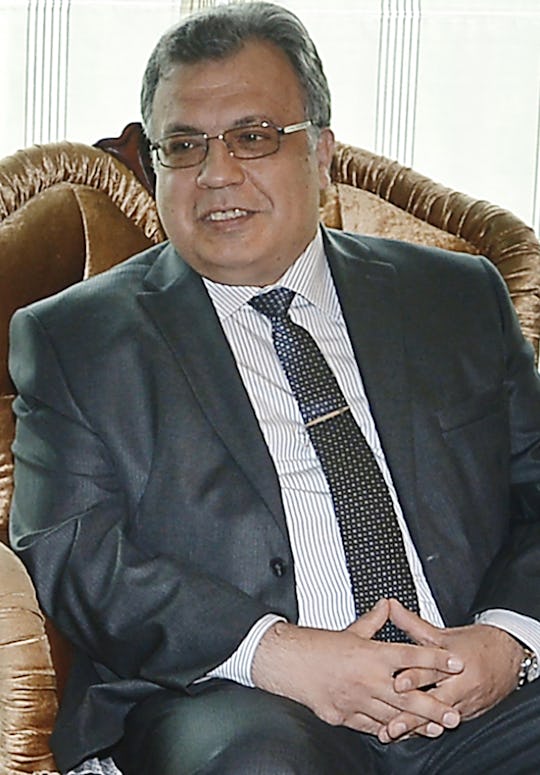 DEPO PHOTOS/AFP/Getty Images
Who Is Andrey Karlov? The Russian Ambassador Was Assassinated In Turkey
On Monday, the celebratory opening of an art exhibit turned tragic when a gunman killed the Russian ambassador to Turkey. Andrey Karlov was giving a speech at a gallery in Ankara when he was shot. The shooting, which has been deemed a terror attack by Russia's foreign ministry, was a horrific end to Karlov's long and illustrious career in diplomacy.
Karlov, 62, was reportedly minutes into his speech at the Contemporary Arts Center's photo exhibit when the gunman shot him in the back multiple times. According to Al Jazeera, the assailant, 22, was an off-duty police officer who was killed by police after the attack. Photos from the scene before the attack began show him standing behind Karlov, and a video on social media further shows him shouting, "God is great" and "Don't forget Aleppo, don't forget Syria" right after shooting the ambassador, continuing, "Whoever took part in this cruelty will pay the price, one by one ... Only death will take me from here." He switched between Arabic and Turkish.
According to The New York Times, the gunman went on to wound at least three other people in the vicinity before he was taken down in a shootout with the police. He has since been identified as Mevlut Mert Altintas, according to CNN.
Karlov had been working in diplomacy for decades. According to his profile on the website for the Russian embassy in Ankara, he was born in Moscow, and started his diplomatic career in 1976. He worked for many years as an ambassador to North Korea, and began serving as the ambassador to Turkey in July 2013. He was married, with one son. A foreign ministry spokeswoman, Maria Zakharova, described Karlov as an "outstanding diplomat" during remarks on Russian television, saying, "He's a diplomat who's contributed a lot in fighting terrorism during his career."
This attack is only one of many to have rocked Turkey this year, although it marks potentially the first assassination of a Russian diplomat in nearly a century. And it comes only a day before representatives from Russia, Turkey, and Iran meet to discuss the crisis in Syria, where civilians in Aleppo have been slaughtered by Syrian government forces. Russia and Turkey helped negotiate a cease-fire between the government and the rebels, which has led the rebels to surrender the city.
But Russia and Turkey have had fraught relations before, most recently when Turkish forces shot down a Russian plane that allegedly violated Turkey's airspace in Syria. Karlov's assassination is certainly not likely to help relations between the country.
There have been many casualties over the course of the Syria conflict and now, sadly, Karlov has been added to a long and heartbreaking list.