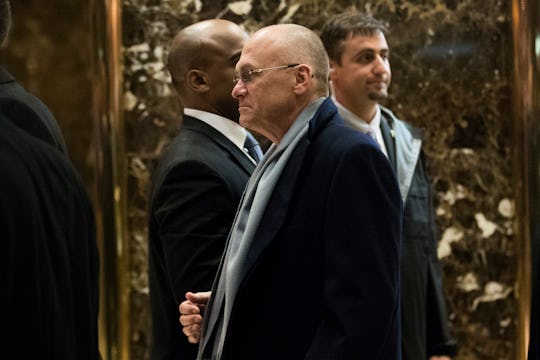 Drew Angerer/Getty Images News/Getty Images
Who Is Andy Puzder? Trump's Reported Labor Pick Has A Controversial Record
It's unlikely that you've heard of President-elect Donald Trump's expected choice for secretary of labor, at least as far as his politics are concerned. So who is Andy Puzder, and where does he spend his time? The longtime Republican currently functions as the CEO of CKE Restaurants (known for fast food stops Carl's Jr. and Hardees) and has been quite open about opposing certain labor practices such as increasing the minimum wage to $15 and granting overtime pay to more workers. He's also written extensively of the impact of Obamacare on consumer behavior, specifically claiming that, because of the healthcare policy, fewer people are dining out, negatively affecting his business.
His controversy extends beyond labor policy, however. In 2015, Pudzer defended the integrity of his company's burger ads which featured scantily clad women, explaining: "I like beautiful women eating burgers in bikinis. I think it's very American." He also observed: "I used to hear, brands take on the personality of the CEO. And I rarely thought that was true, but I think this one, in this case, it kind of did take on my personality."
Weighing role of a labor secretary (summarized by The Huffington Post as a position devoted to "enforcing workplace safety and wage laws on behalf of U.S. workers") alongside Pudzer's publicized perspective paints a grim picture for workers might have been hoping for a wage raise in coming years. Though he hasn't explicitly said he's against an increase, he has stated that he believes such a change would lead to job loss.
Sources close to Pudzer say he's likely to accept Trump's offer. When asked this past November whether or not he'd want the job, Pudzer told Fox Business anchors: "I think it would be ... the most fun you could have with your clothes on."
The International Franchise Association's President and CEO Robert Cresanti has supported Pudzer's possible appointment, saying:
Voters elected a job creator as president, it is only fitting that the Labor Department, the agency responsible for ensuring the nation's labor policy is properly balanced, should be led by someone with a proven track record for creating jobs, growing a business and opening a pathway for people to create a successful career and even business ownership.
Others aren't so optimistic, such as Christine Owens, executive director of worker advocacy group the National Employment Law Project, who predicts:
Puzder will be there for his low-wage-industry CEO buddies, who are now salivating over the prospect of rolling back the Obama administration's efforts to raise pay for low-wage workers, improve workplace safety, and increase corporate accountability for wage theft and other violations.
Pudzer and Trump have a lot in common, which makes Pudzer's nomination less surprising despite his lack of experience in political office. A shared focus on running the country like a business might mean saving executives some of the burden, but only time will reveal the impact of such policy on minimum wage workers.