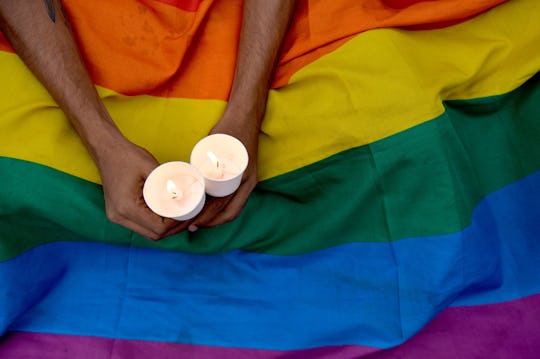 MANJUNATH KIRAN/AFP/Getty Images
Who Is Angel L. Candelario-Padro? The Pulse Shooting Victim Was True To His Name
It's so important to honor and remember the victims who lost their lives in the horrific mass shooting at Orlando gay nightclub Pulse in the early morning hours on Sunday. The gunman, who reportedly targeted the LGBTQ community intentionally, opened fire in the nightclub killing at least 49 people and injuring 53. Angel L. Candelario-Padro was one of the lives whose life was horrifically cut short. So, who is Candelario-Padro?
The 28-year-old man who was reportedly excited about starting a new career as an ophthalmic technician in Orlando. As each victim's name has made the rounds on social media, their stories have been filled in appropriately by family and friends. Candelario-Padro's story too has been revealed online and in the media by his grieving friends and family. On Candelario-Padro's Facebook page, now a page dedicated to his memory, it states that he was a native of Guanica, Puerto Rico, and that he had studied nursing in Puerto Rico at the Universidad Interamericana de Puerto Rico Recinto Metropolitano.
Candelario-Padro was formally a Zumba fitness instructor and previously lived in Chicago, where he worked at the eye institute, a part of the Illinois College of Optometry (ICO), before moving to Orlando. He was scheduled to begin employment as an ophthalmic technician with the Florida Retina Institute on July 20, according to the institute's Facebook page:
The physicians and employees at Florida Retina Institute (FRI) are shocked and deeply saddened by the tragic events that have recently occurred in our community. It is with great sadness that we learned today that the newest member of our team, Angel Candelario-Padro, was one of the victims killed in this tragedy. Angel had not started working for us yet, but was scheduled to start working at Florida Retina Institute on June 20. We were all looking forward to Angel becoming a part of our team of technicians and the FRI family.
In an interview with The Chicago Tribune, Candelario-Padro's aunt, Leticia Padro, described her nephew as joyful.
"He was studious, he was joyful, Leticia Padro said according to the Tribune. "He'd rarely go out and party." She continued, "In fact, he didn't want to go out that night. He told his friends, 'no, I don't want to go out,' but they kept insisting, so he went."
Roseanna Thompson, a former supervisor to Candelario-Padro at ICO told The Tribune that Candelario-Padro was true to his name – an angel.
"Angel was true to his name, an angel," Thompson said. "Angel was such a team player. He had a very high spirit, he connected with everyone. He was very personable with our patients. There was never a day that you'd see Angel and he didn't greet you with a smile."
According to The Orlando Sentinel, Candelario-Padro's death was confirmed Monday afternoon.
It's clear Candelario-Padro has touched the lives of many. And as the country continues to address this horrific act, gun laws, hate-fueled crimes, and homophobia, it's important we keep his and the rest of the victims' memories alive.