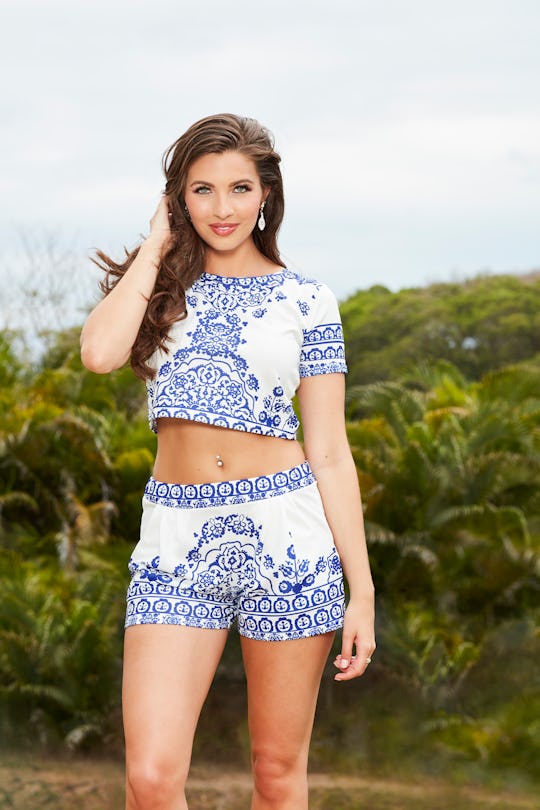 Craig Sjodin/ABC
Angela On 'Bachelor In Paradise' Might Not Look Very Familiar
Just like Grocery Store Joe on Becca Kufrin's season of The Bachelorette, Angela was a Week 1 elimination from Nick Viall's season of The Bachelor. Now, she's back to find love on Bachelor in Paradise Season 5, but since she's been gone for a little while, fans are probably curious about who Angela on Bachelor in Paradise is. The former Bachelor contestant may not have had as much time in the franchise as some of the other BiP stars this season, but she's remained close to them all throughout her journey.
Outside of BiP, Angela has remained close to some Bachelor Nation favorites like Becca, Chelsea, and Tia, who weren't even on her season of The Bachelor. And although her time on The Bachelor was short-lived, she apparently made enough of an impression to be brought to Paradise. That being said, Nick's season was long enough ago that fans are all scratching their heads wanting to know where she came from. Is she likable? Is she a "villain?" Time will tell.
Although Angela last graced TV screens in 2017, it seems like an eternity ago. And since she was also a night one elimination on The Bachelor Season 21, it makes it even harder to remember just who she is now that she's on Bachelor in Paradise.
According to Angela's Instagram, she's a model, and when she competed for love on The Bachelor, she said that she was ready to settle down to get married and have kids. Maybe the man of her dreams is on that famous resort in Mexico. In a "heat and greet" video she posted on her Instagram, Angela said that she hoped being on Paradise would be "the beginning of my love story."
Angela's Instagram bio also says that she's a proud aunt and in one photo of her with a baby, one of her captioned hashtags is #BabyFever. So I'd say Angela definitely appears to be ready for a lasting relationship, and maybe marriage and kids and all that jazz.
Shortly after her short time on The Bachelor ended, Angela went on the E&G Podcast to talk about her experience. She chalked up her night one elimination to the fact that she and Bachelor Nick just hadn't been able to get in any one-on-one time. If you've ever seen the first cocktail party on The Bachelor, then you know how very competitive it can get to win a little time with the lead. She also said in the interview that she'd managed to make a ton of new friends out of her experience on The Bachelor. Judging by the many selfies and group photos on her Instagram, that rings pretty true.
Since her time on The Bachelor ended, Angela has remained a fixture in the franchise, even if it was by proxy. Now, however, is her chance to try and find love again. So far this season, plenty of guys have been attracted to Angela, but she's yet to make a strong connection. Colton expressed some interest, but because of all of the drama with Tia, my guess is that she didn't want to get too close. She also seemed to get a little closer to Eric at one point, but they don't appear to be one of the strong couples on the resort. So, it's hard to say what her own fate will be if she doesn't couple up soon.