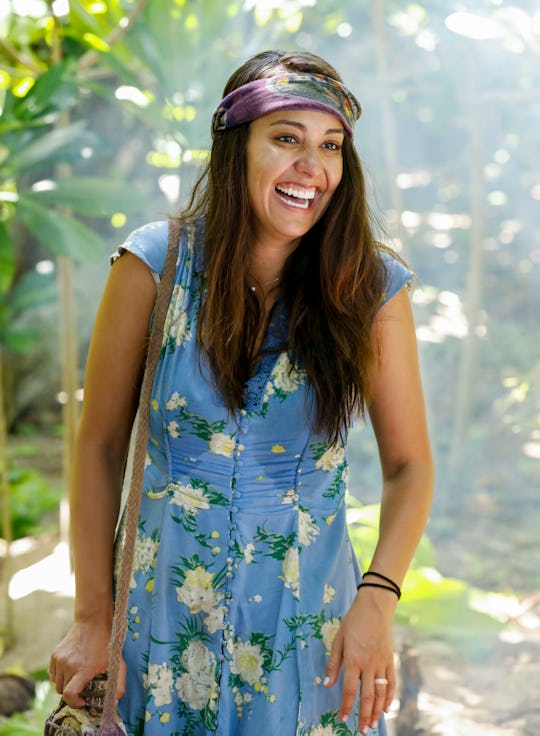 Robert Voets/CBS
Angelina On 'Survivor' Has Experience Being Separated From Her Husband
Along with nine other castaways, Angelina Kelley was chosen to be in the Goliath tribe on Survivor Season 37. She's already one of the stronger contestants and it's probably smart to watch her as a potential winner. Fans likely have a lot of questions for her, though, like who is Angelina's husband from Survivor? She's talked about him on the show and, as any spouse would, she seems to be feeling the weight of being away from him while on the island. It's all in the name of winning that $1 million prize at the end, but as a newlywed, it's got to be hard for her. In a pre-season video bio, Angelina explained through a shaky voice that her husband, Austin Carroll Kenney, is part of the United States Marine Corps.
She said that they'd already gone through one deployment and that, at the time of filming the video, they were gearing up for another deployment separation. "As a military spouse," she said, "we are some of the strongest people on the planet because we have to say goodbye to our loved ones and have so much unknown." She said that despite sometimes not knowing where her husband is, she's forced to have strength and that his strength inspires her to be strong during every deployment too.
Austin doesn't seem to have a social media presence of his own, but there are tons of photos of him on Angelina's Instagram, along with some long captions that show just how strong of a bond the couple has. She recently posted about his upcoming deployment and wrote about the pride she has in his service.
"As we prepare for his second deployment, it's easy to feel anxious and sad about the long stretch of months we will be apart, but mostly I am overwhelmed with pride that I married someone with the character and conviction to serve our country and lead Marines," she wrote. If you hadn't already guessed by the way she talks about him on Survivor, Angelina and her husband seem to be head over heels for each other.
Austin and Angelina don't have any kids, but they do share a dog who Angelina has referred to on her Instagram as one her her favorite boys. She also got Austin to dress up as a dolphin opposite her mermaid, so he's definitely a keeper.
While Austin doesn't seem to have an Instagram of his own, he does have a LinkedIn profile that says he's been in the U.S.M.C. for the past four years. Before that, he was a partnership program coordinator for The Stanford Fund, a Stanford University organization that helps fund undergraduate tuition and other costs. He also graduated from Stanford in 2011 with a B.A. in International Relations and a minor in Classical Studies.
Since Austin doesn't have any public social media accounts, it's hard to say what his life as a Marine is like for him. But judging by Angelina's descriptions on Instagram, it looks like he's in the thick of it with each deployment. In May, she wrote that his first deployment to Syria involved fighting ISIS and that afterward, he made the decision to extend his time with the Marines in order to keep fighting. Clearly, he has a lot of honor and it's something that Angelina takes a lot of pride in.