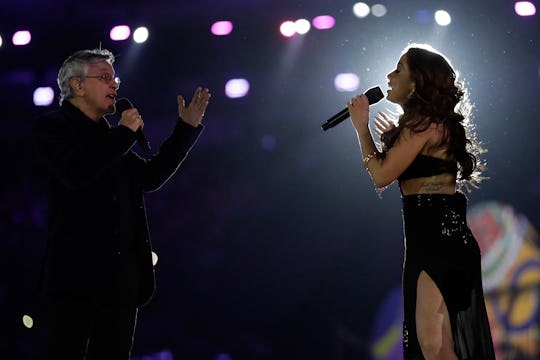 Jamie Squire/Getty Images Sport/Getty Images
Who Is Anitta? The Rio Olympics Opening Ceremony Performer Stole The Show
Amidst protests in the Rio, the Olympics Opening Ceremony still went off without a hitch. Headlining the amazing show was Brazilian pop star, Anitta, who killed the stage at Maracanã Stadium. At only the age of 23, who is Anitta? The Rio opening ceremony star performed alongside Grammy award winners and Brazilian music icons Caetano Veloso and Roberto Gil. Anitta, who grew up in the ghettos of Brazil, never thought she'd get to perform on such a grand stage and for so many people but now her dream has come true.
Anitta's performance got the crowd pumped up and excited, but what else can you expect from someone who is sure to be the break-out star of Brazil. The crowd loved her performance and it's clear why she was chosen to perform during the opening ceremony. The combination of Anitta's pop sound with the classical Brazilian sounds of samba and bossa nova from Veloso and Gil was perfect and truly gave the world a taste of Brazilian culture.
It was amazing to see Veloso and Gil performing again on such a historic night. The two have have been friends for over 50 years and are a team when it comes to their music. They paved the way for many Brazilian pop artists, including Anitta, and it was great two see these two legends share the stage with a new up and coming artist in the Brazilian music world they helped develop.
The singer told Billboard that she "couldn't believe" the opportunity when it came to her.
"I come from the ghetto in Brazil where we don't have a lot of career opportunities, so I'm sure my family and people who live there never imagined that one day I'd become a singer and be able to perform at an event like the Olympics."
You have to love someone who seems to truly appreciate such a special opportunity, right? This is certainly not the last we'll here of her. According to her interview with Billboard, Anitta is currently focusing on promoting her single and will "continue to plan" her international career. Most importantly, she wants to "empower women and show them that you can make your dreams come true." Sounds like a great idea, Anitta, and right now, you've got the whole world's attention.