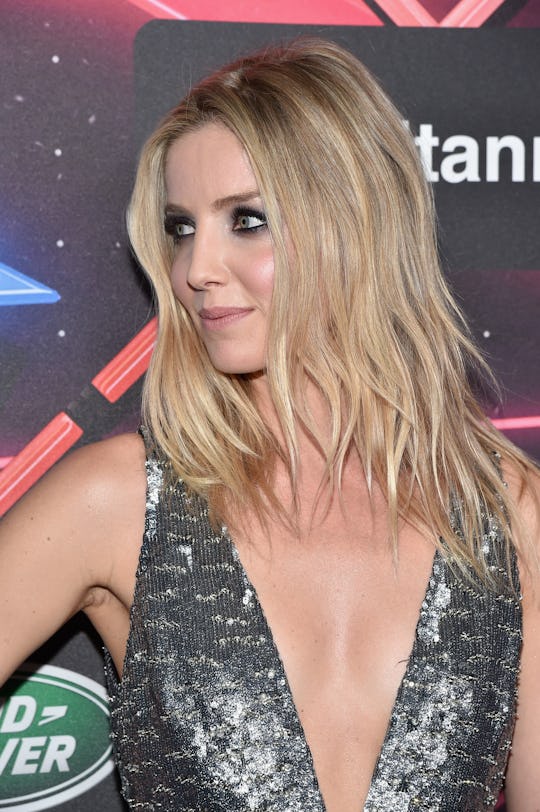 Mike Windle/Getty Images
Who is Annabelle Wallis? Chris Martin's New GF Is His Biggest Fan
Since he divorced Gwyneth Paltrow and broke up with Jennifer Lawrence, Chris Martin's girlfriend, Annabelle Wallis, has been taking up all of his time. The couple are all over each other's Instagram accounts and the British tabloids. Wallis is an actress known for Showtime's The Tudors and most recently, the new BBC show Peaky Blinders. She also starred in a horror film that was named after her, which is possibly the creepiest thing ever.
Wallis and Martin were first photographed — which means it's official, right? — in August in New York City. According to a source in the Daily Mail, Martin made a lot "effort" to rendevous in the Big Apple with her. They aren't opposed to PDA, either. In October, they were in Paris, cozying up on the cobblestones. Wallis even advertises their relationship on her Instagram account. Most recently, she shot a picture of James Corden and Martin, taping Carpool Karaoke. She wrote " I CANT WAIT!! My absolute favourites making sweet music...One slightly more favoured than the other."
Obviously, she was talking about Martin (we have to assume, right?) being the favorite of the two. But the 31-year old actress is more than just her super famous musician boyfriend. She's been acting almost all of her life and is starring in a few new films this year, including Grimsby and Knights of the Roundtable. She also has a raunchy sense of humor.
Her social media accounts are all around hysterical. She tweets in English and in Portuguese, since she spent most of her childhood there, according to her official bio. She also isn't shy about backing her boyfriend, tweeting links to his music and admitting to solo Coldplay dance parties.
Outwardly, she seems nothing like Paltrow and very much more like Jennifer Lawrence, who has dated Martin on and off since his divorce. According to People magazine, she allegedly broke it off with him because he couldn't commit. Wallis doesn't seem to mind, though.
With that kind of attitude, it's more than likely that she'll be spotted in the stands during the Super Bowl for the halftime show, while Martin performs. Coldplay was the first to confirm that they would be at the game and Beyonce is on their new track "Hymn for the Weekend," so it's likely there will be a solid duet.
Wallis hasn't mentioned on Twitter or on Instagram if she plans on being there, but from the looks of it, she'll be there cheering her beau and Bey on.
Image: Mike Windle/Getty Images