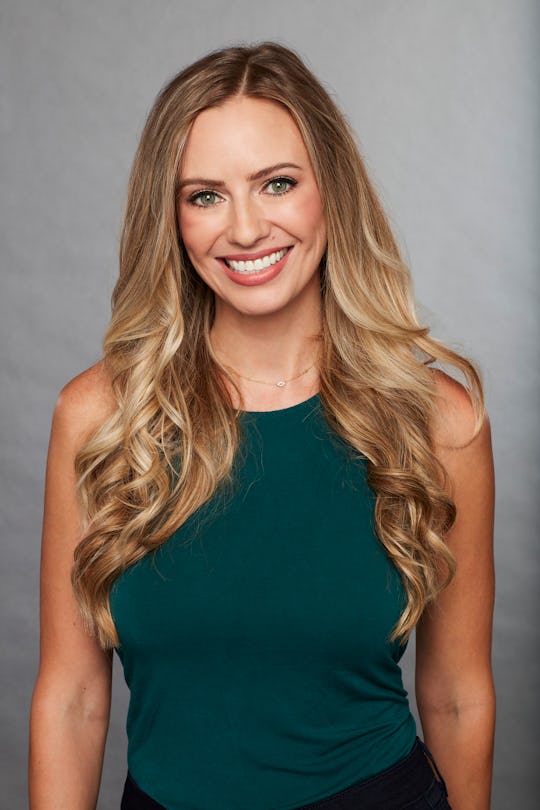 Craig Sjodin/ABC
Annaliese From 'The Bachelor' Is Ready For A Commitment
I can't imagine the pressure of figuring out what to do for your Bachelor limo exit. I'm sure Annaliese, who came dressed in a masquerade mask as the "kissing bandit," spent a lot of time thinking about it. But who is Annaliese on The Bachelor? She left her mask on for most of the night, and it left Arie intrigued.
Unlike other years of The Bachelor, there weren't too many gimmicks in the premiere. How could Bachelor Nation forget Alexis, the aspiring dolphin trainer from Nick Viall's season who came out of the limo dressed as the left shark from the Super Bowl (though she's still under the illusion she was in a dolphin costume)? Or Whaboom, the contestant who came out of the limo on Rachel's season of The Bachelorette howling his catchphrase, "Whaboom"?
Yes, the show has seen a lot of weird introductions in its time, but thankfully Arie's contestants didn't branch out into that level of bizarre. I personally thought Annaliese's introduction was cute. She was playing on Arie's reputation as "the kissing bandit," which not many women did; more of them rather went with race car related introductions, per Arie's former full-time gig. But who is Annaliese outside of the gimmick? Bachelor Nation unfortunately didn't learn a lot about her from that intro.
According to her ABC biography, Annaliese is a 32-year-old event designer from California. However, Reality TV World notes that Annaliese is also an actress and writer. Annaliese's IMDB page confirms that; it looks like she was in a TV series and several shorts back in 2012 and 2013. Annaliese seems like a mystery, at least more than other contestants; there's not much information online about her as of yet — not even a LinkedIn page. It's only a matter of time, though, before Bachelor Nation finds out more about her. Or, if she's unfortunately kicked off the show, it's only a matter of time before she does interviews.
From her biography on ABC's site, though, Annaliese seems like she has a great personality. When asked the five things she can't live without, she answered: "I feel like the physical things are food: avocados, cheese, ice cream, but emotionally: love, laughter." Honestly, I feel like everyone could relate to this list of must-haves. If she wanted to see someone else for a day, she would pick Tracee Ellis Ross, Miley Cyrus, or Chrissy Teigen because "they are all so fierce and confident and are not afraid to be themselves and speak their minds." Again, I could relate. In terms of relationships, Annaliese sees marriage as a partnership. To her, marriage is also "a best friend, someone who makes you your best self, who will be a great parent and someone who will always be there for you through thick and thin." Could Arie be that someone by the end of The Bachelor?
I can't say as of now, but Annaliese has as good a shot as any. I hate to bring up age, but seeing as it's a huge talking point this season, I will. Annaliese is 32, which according to The Hollywood Reporter makes her one of the six contestants in Arie's season that are in their 30s. Arie is 36, so there's already been controversy over the age gap of him and some of the women. Arie told The Hollywood Reporter, though, that it's not age but readiness to commit that matters to him the most: "I think it's more about the person and if they're ready for marriage and how mature they are." It seems that Annaliese takes the idea of marriage seriously as well, so maybe the both of them are ready to make that commitment together.
Check out Romper's new video series, Romper's Doula Diaries:
Watch full episodes of Romper's Doula Diaries on Facebook Watch.