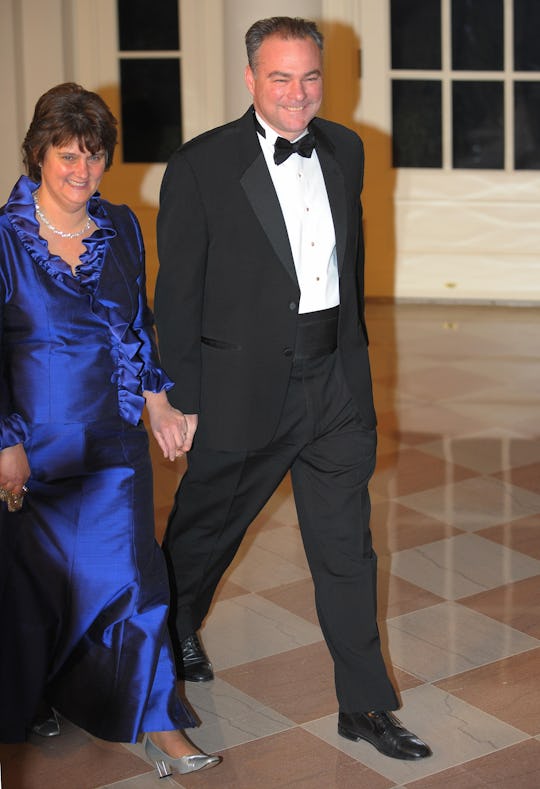 MANDEL NGAN/AFP/Getty Images
Who Is Anne Holton, Tim Kaine's Wife? Hillary Clinton's Running Mate's Wife Is Impressive
Last week, Donald Trump announced that Indiana Gov. Mike Pence would be the running mate in his controversial campaign. But the person facing off against Trump kept things relatively unsurprising, especially compared to the Republican nominee. Former Secretary of State Hillary Clinton announced Virginia Sen. Tim Kaine would be her running mate via text, something that was speculated for weeks. But, with the choice of Kaine comes a question for voters: Who is Kaine's wife, Anne Holton?
Like Hillary Clinton and Bill Clinton, Kaine and Holton are quite the political pair. Holton comes from a political background — her father, A. Lindon Holton, Jr., served as the governor of Virginia in the 1970s. And Holton has followed in her father's footsteps in the attempt to better the world through politics — she currently serves as the Education Secretary for Virginia. And even more reason to link Kaine and Holton to the Clintons? Kaine himself compared Holton to Clinton at an Annandale, Virginia campaign event, pointing to Holton and Clinton's public service commitments.
So what are those commitments to public service? After working as a legal aid lawyer for impoverished families and as a district court judge, Heavy reports that Holton has worked to improve and integrate Richmond public schools, and bolster the overall experience students face in the city. As Holton told the Richmond Times-Dispatch about her work in foster care reform, "My team and I were able to do great work in just a few short years. Every child deserves a real family, and we were able to make this a reality for more children all across Virginia."
As Virginia's First Lady, Holton also established the Great Expectations Program, a program attempting to secure college access for those in foster care.
But there's more. As Bustle reports, Holton has pushed for women in STEM, and fought for gender equality in politics. No wonder the First Lady of Virginia has picked up awards like the Annie E. Casey Foundation's Life Award of Distinction.
One difference between Kaine and Holton and the Clintons? The duo has a much bigger family than the presumptive Democratic nominee. Kaine and Holton are parents to two sons, Nat and Woody, and one daughter, Annella.
And the couple is a far cry from the White House, with roots firmly planted in Virginia. But, considering the political accomplishments of Kaine and Holton, here's guessing they wouldn't mind extending their influence in Washington.