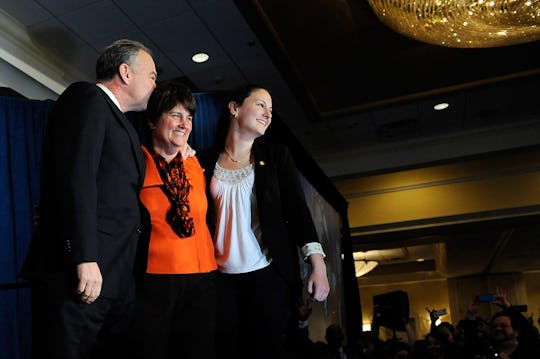 Patrick McDermott/Getty Images News/Getty Images
Who Is Annella Kaine? Tim Kaine's Daughter Loves To Perform
With the Democratic National Convention kicking off this week in Philadelphia, Pennsylvania, all eyes are turned to the presumptive Democratic ticket which is set to include former Secretary of State Hillary Clinton as the presidential nominee and Virginia Sen. Tim Kaine as her running mate. This week, the country will learn more about the relatively unknown Kaine and his family, including his wife and three children. Who is Annella Kaine? She is not only Kaine's youngest child — she's his only daughter.
Born in 1995, Kaine's daughter grown up in Richmond, Virginia. When she was just 3 years old, her father would begin his 18-year undefeated career in politics, starting out as Richmond's mayor in 1998. Annella has two older brothers: Nat, a 26-year-old U.S. Marine, and Woody, a 24-year-old who's studied filmmaking.
Looks like the entertainment bug spread to Woody's little sister, as Annella just finished her third-year as a B.F.A student majoring in drama at New York University's prestigious Tisch School of the Arts. She's also a member of the highly select actor's studio affiliated with NYU's Tisch School, the Atlantic Acting School. At just 21 years old, she already has an budding professional theatrical resume, according to Annella Kaine's profile at Backstage.com.
According to Cunnilingus Curated, a queer women's art and performance collective, Kaine is also a budding singer-songwriter. She has also performed with the Richmond Triangle Players, a Virginia-based theatre company considered a "leading voice in the community's explorations of equality, identity, affection and family, across sexual orientation and gender spectrums."
In 2013, Kaine performed in their production of bare: a pop opera, where she starred as the character "Rory." She could be found goofing around backstage will fellow bare castmate and best friend, Kelsey Cordrey, as the pair described their friendship and performing together for Sifter:
Like her brothers, Annella has kept largely out of the spotlight, save for her performance credits and the few videos and photos of her theatrical work online. While she does have both a Twitter and Facebook account, Annella keeps both of these private — an understandable tactic given that her father has just been named the presumptive Democratic VP pick.
With her last year of undergraduate ahead of her, it will be interesting to see what happens next for Annella if her father and Clinton take the White House in November. At the Atlantic Acting School, a three-year intensive acting studio, some students move on to their Atlantic Acting's Los Angeles, California program.
Will Annabelle remain a New York actor, or will she head out to the West Coast to try her talents out in Hollywood? Either way, Annella Kaine is at an exciting time of young adulthood — poised on the precipice of striking it out on her own fairly soon and her father's vice presidential campaign. I have a feeling she's going to handle it all with grace and a positive attitude.