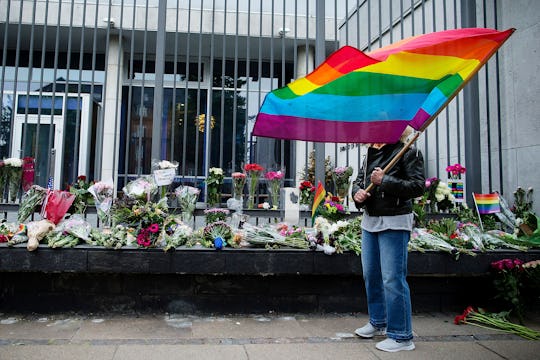 JENS ASTRUP/AFP/Getty Images
Who Is Anthony Luis Laureanodisla? He Was Dancing At Pulse Before The Shooting
As more names of victims from the Orlando shooting are released, the tragedy becomes increasingly more devastating. Putting names to numbers leads to putting faces to names, then putting life stories, hopes, and dreams to faces. It ceases to be anonymous victims and becomes the loss of real people with lives ahead of them. Those who died in the Pulse nightclub early Sunday morning were victims of an act of extreme violence that has since been dubbed the worst mass shooting in modern history in the United States. If you're wondering, "who is Anthony Luis Laureanodisla?" he is one of the people who happened to be at Pulse on Saturday night when Omar Mateen walked in and opened fire. He died on Sunday at 25 years old.
One thing that is certain about Laureanodisla is he loved to dance. Dancing was one of his greatest joys, and he had a range of tastes. He loved dancing to club music, salsa, tango, and mambo, according to the Orlando Sentinel. That talent is what brought him to Pulse again and again. The club is more than a dance floor though; it serves as a safe space and hub for the Orlando gay community, where Laureanodisla was well loved.
The Orlando Sentinel reported that Laureanodisla's passion for dance defined him. His cousin, Ana Figueroa, spoke about it during an interview. She said, "He was very talented. He started dancing when he was about 10 years old. It was his passion." According to Heavy.com, he had become well known in the Orlando drag scene, where he went by Alanis Laurell.
Figueroa also told reporters that Laureanodisla will be sorely missed by friends and family. She said, "I want people to remember Anthony as someone who was very happy and very kind. This is just devastating for our family and his friends. [...] He had a lot of close friends, and they are devastated. May he rest in peace, my lovely Anthony." Figueroa heard from her cousin on Saturday night, not long before the shooting began. According to her, he had texted to ask if she wanted to join him at Pulse. She said she was too tired, but maybe some other time. That was their last communication. Since his death, condolences have poured in from people who saw him perform and who were inspired by his talent.
A drag performer named Lady Galore wrote on Facebook,"my heart goes out to you, your family, drag family and friends and ALL the other victims people affected by the pulse Orlando mass shooting." Drag Around The World posted a tribute to Alanis Laurell, saying she was an "amazing performer and a beautiful person inside and out. She will be missed deeply. You are now a angel looking down at all of us."
Before moving to Orlando, Florida, Laureanodisla had lived in Puerto Rico where he was born and raised. He attended Universidad Del Sagrado Corazon and studied Communications. Just before graduating, he decided to relocate to Florida to follow his dream of becoming a dancer and choreographer. He was on the dance floor when Mateen began shooting into the crowded space. He was shot several times and died before police were able to enter the scene. He had come to the club with two roommates, who were also shot. After Mateen was killed in a gunfight with law enforcement officials, Laureanodisla's roommates were rushed to the hospital. According to the Orlando Sentinel, their conditions are stable.
Laureanodisla's mother, who still lives in Puerto Rico, was notified of his death on Sunday and immediately flew to Orlando, Florida. His father, Luis Laureano would follow soon after. Laureanodisla's death is truly the loss of a promising, artistic life, and it's even more tragic that he died doing what he loved most.