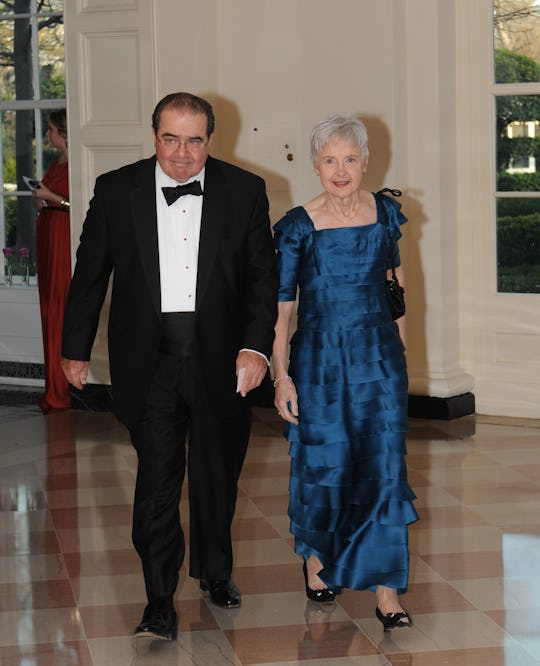 Nicholas Kamm/Getty Images News
Who Is Antonin Scalia's Wife? Maureen Scalia Likes Her Privacy
Supreme Court Justice Antonin Scalia was found dead Saturday on a luxury Texas resort, according to the San Antonio Express-News. Scalia, was was 79, reportedly died of natural causes while staying at the Cibolo Creek Ranch where he was staying with a private party of about 40 people. Scalia, one of the Court's conservative justices, was good friends with Justice Ruth Bader Ginsburg and had a rich life outside of the court. For example, Scalia had nine children with his wife, whom he's been married to since 1960, according to U.S. News & World Report. Who is Antonin Scalia's wife, Maureen Scalia? She has yet to issue a statement, but she and Scalia's children are likely devastated by his unexpected death.
Scalia reportedly met his wife on a blind date while he was attending Harvard Law School and she was an undergraduate at Radcliffe College, according to ABC News. During Scalia's nomination hearings, someone reportedly remarked that he had a lot of experience working in groups of nine since he and his wife have nine children, according to U.S. News. But Maureen seemed to be the matriarch, so to speak, of the household, according to the Wall Street Journal. In an interesting and controversial 60 Minutes interview, Scalia said that he didn't attend his children's soccer games or other activities because they knew he had work, but he said his wife was dedicated to those events, according to the WSJ:
You know, my parents never did it for me. And I didn't take it personally. 'Oh Daddy, come to my softball game.' No, I mean, it's my softball game. He has his work. I got my softball game. Of course, [Maureen] was very loyal. She went to all the games.
But, outside of that one comment about his wife, Scalia didn't talk about his marriage much, except to say that it was successful and he was proud of his 28 grandchildren, according to Biography.com. Maureen has stayed largely out of the press — there are no well-known interviews with her or even times where she spoke out about her husband or issues pertaining to the court.
The one time she did make headlines was in April 2014, when reports showed that Maureen sat on the board of the Nurturing Network, a network of Crisis Pregnancy Centers, which are well known for their work to convince women not to get abortions. Not only that, but Jezebel also cited old webpages (with screenshots) and her profile page on the Nurting Network, which said that she often volunteered as a "sidewalk counselor" — one of the anti-abortion people who tries to persuade women on their way into abortion clinics to examine other options.
Aside from that, one of the only other mentions I could find of Maureen directly was in a story from the Washington Post about a book party Scalia hosted in 2012. The article said:
The guests stood around Scalia's dining room table — laden with Maureen Scalia's buffet of homemade hors d'oeuvres and her husband's Italian cookies...
Who knows what all this really comes together to mean, but there's no doubt that this very private lady is grieving her husband's death. It seems best to let her come out and issue a statement — or not — in her own time.