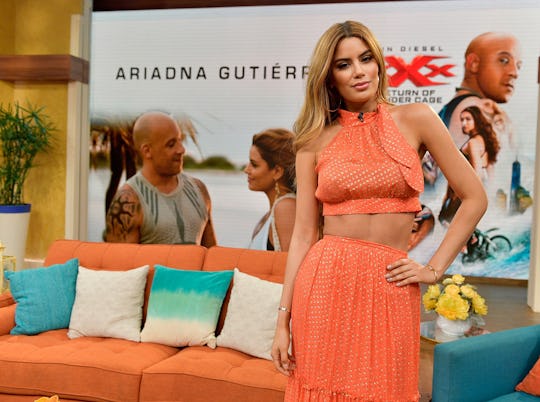 Gustavo Caballero/Getty Images Entertainment/Getty Images
'Celebrity Big Brother' Star Ariadna Gutiérrez Is No Stranger To Live TV Mishaps
For the first time ever, Celebrity Big Brother is taking place in the U.S. Although the U.K. has been doing their own version for years this is the first time it's happening stateside, so of course fans of the show are incredibly excited. For the first season of the series, the cast is quite incredible and includes a number of familiar faces like Ariadna Gutiérrez. So who is Ariadna on Celebrity Big Brother? She was almost Miss Universe back in 2015.
Although Ariadna currently resides in Miami, Florida, she was born and raised in Colombia, which is why she was Miss Colombia in the 2015 Miss Universe pageant. Most people will probably recall the infamous moment when, at the end of the pageant, host Steve Harvey accidentally crowned Ariadna as the Miss Universe winner. Not only was she given the crown, there was a standing ovation, cheers, and even tears from Ariadna.
However, then in a heartbreaking moment, it was revealed that Harvey had actually made a mistake and the Ariadna was actually first runner-up. Yikes! To make matters worse, the crown was then literally removed from Ariadna's head and placed atop Miss Philippines Pia Alonzo Wurtzbach's head instead, making her the actual Miss Universe 2015 winner.
Following the incident, Ariadna went onto Harvey's talk show to have a heart to heart with him about the moment, where he gave her a heartfelt apology. By the end of the conversation, the two were able to joke with one another, and it seems all has been forgiven.
Although most people will still recognize Ariadna from this awkward moment in her life, she's gone on to do other things, including being an actress. She got her first major role recently in the film xXx: Return of Xander Cage, working alongside Vin Disel, Nina Dobrev, and Ruby Rose. Besides her acting, Ariadna is a model as well.
Now at 24 years old she's entering the Big Brother house and it'll be interesting to see how she handles being in there with virtual strangers while having no connection to the outside world. In her cast bio she said that the hardest part about being in the house will probably be "not having direct contact with my family, especially with my father." Ariadna also mentioned she has 10 nieces and nephews, so it's clear she has a big family. Plus, based on her Instagram, she and her family are very close and missing them could definitely be her biggest distraction.
When it comes to strategy, Ariadna revealed that she doesn't have one. She said in her bio, "Just be myself, enjoy every day I'm in the house, and treat the rest of the houseguests with the same respect I want to be treated with." Although playing nice will probably keep a target off her back initially, it probably won't be enough to win her the $500,000 grand prize. Still, as the popular tagline of the series states, expect the unexpected. Who knows? Ariadna could end up killing her fellow houseguests with kindness and winning the game.
Surprisingly, when asked in her bio what moment in her career prepared her most for living in the Big Brother house, she didn't mention the 2015 Miss Universe competition at all. Instead her answer was very objective. She said, "My whole life has prepared me for an opportunity like this. Through very difficult experiences, which have taught me how to take advantage of every opportunity and make the best of whatever is thrown my way."
Hopefully that'll be enough to get Ariadna through this competition. You can see how she does when Celebrity Big Brother premieres Wednesday, Feb. 7 at 8 p.m. ET on CBS.
Check out Romper's new video series, Romper's Doula Diaries:
Watch full episodes of Romper's Doula Diaries on Facebook Watch.