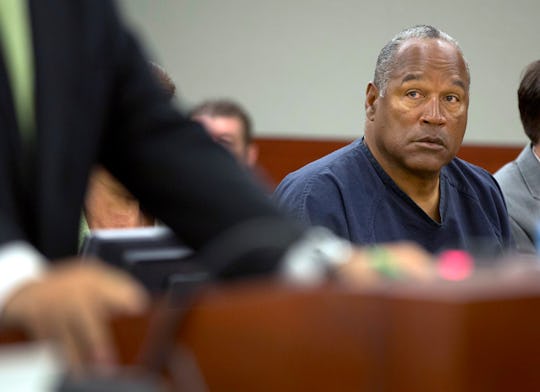 Pool/Getty Images News/Getty Images
Arnelle Simpson Testifies At OJ Simpson Parole Hearing
The world watched closely on Thursday as former NFL star O.J. Simpson appeared before the parole board at Lovelock Correctional Center in Nevada, to determine whether he was fit for early release. Among those who spoke for him, alongside his lawyer, Malcolm LaVergne, was one figure who has largely remained out of the spotlight. So exactly who is Arnelle Simpson, and how is she related to Simpson himself?
Arnelle, whose mother was O.J.'s first wife, Marguerite Whitley, has kept in touch with her father, O.J., over the years. She had two siblings, Jason Simpson and Aaren Simpson, the latter of which died at the age of 2. Although Arnelle herself has become a well-known face at her father's various trials and hearings — testifying on his behalf and advocating for his release — her name has been left out in most pop culture references (with little to no mention in the TV drama The People v. O.J. Simpson: American Crime Story, most recently).
According to Newsweek,
[Arnelle has been] credited for coming up with the idea for O.J. Simpson's book, If I Did It, and has been accused by the family of Ron Goldman—the man who was found stabbed to death alongside Nicole Brown Simpson in 1994—of working to keep proceeds from the book out of their hands.
On Thursday, however, it was Arnelle's emotional testimony at her father's parole hearing — for a crime he committed years earlier, which involved an armed robbery in Las Vegas — that took center stage. "As you know, I'm here on behalf of my family, for the purpose of expressing what we believe is the true character of my father," she stated. She continued:
No one really knows how much we've been through, this ordeal in the last nine years. My experience with him is that he's my best friend and my rock. And as a family, we recognize that he is not the perfect man, but he's clearly a man and a father who has done his best to behave in a way that speaks to his overall nature and character, which is always to be positive, no matter what.
... We just want him to come home. This has been really, truly hard. ... I know that he is remorseful.
O.J. Simpson's fate will be determined by the parole board later on Thursday, but for now, given his daughter's tearful testimony, it's safe to say he has a network of support at home to welcome him if he's granted early release.