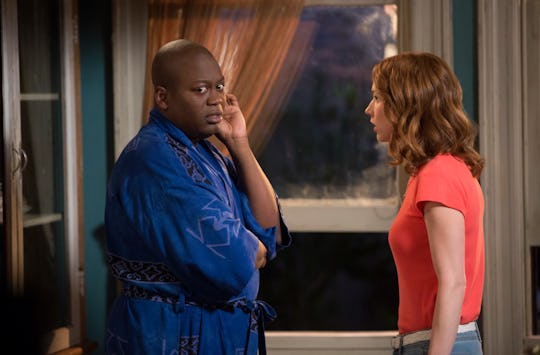 Eric Liebowitz/Netflix
Who Is Art Smelly? The 'Unbreakable Kimmy Schmidt' Title Card Might Spark Some Questions
The Season 2 of Unbreakable Kimmy Schmidt was filled with many different references to pop culture. If you don't pay close attention, you could very well miss one of the biting references that Tina Fey and Robert Carlock have embedded into the series. For example, after Episode 9 of Season 2 of Unbreakable Kimmy Schmidt showed a title card reading "In Memory of Art Smelly," I was lost. Who was Art Smelly on Unbreakable Kimmy Schmidt? Did I miss an actor, or a character? Well, if you were also wondering who Art Smelly was, I've got the answer for you.
After an episode jam-packed with goodness — Tina Fey! Uber driving! Emotional burps! — Episode 9 ended with a title card remembering an "Art Smelly." After a quick Google search came up empty with who Art Smelly was, I decided to give the scene another watch, which is when I realized that Art Smelly was actually a recording artist on the Now That's What Sounds Like Music album that Kimmy introduces to Titus. (Also, the "MMMbop" parody will forever be stuck in my head, thanks for asking.)
At the end of the episode, Kimmy and Titus come together and basically recap just about everything that went down in the episode. It is then that Titus gives a shoutout to the song "I'm Convinced I Can Swim" on the album, which is clearly a parody of "I Believe I Can Fly" by R. Kelly. While Titus and Kimmy hug and spin in slow-motion, "I'm Convinced I Can Swim" plays in the background, leading us into the credits.
So, there's your answer. Art Smelly is just a musical genius parodying R. Kelly music in a way only those fearful of the ocean can understand. Thank you for your contribution, Art. You're a class act.