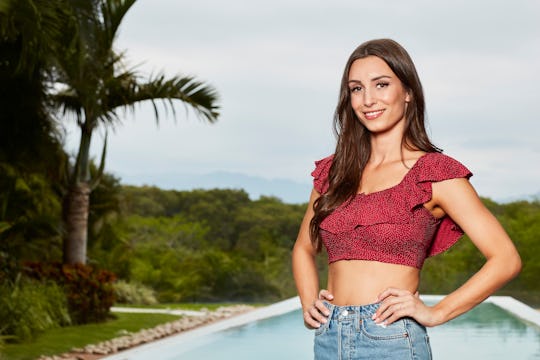 Craig Sjodin/ABC
Astrid On 'Bachelor In Paradise' Might Look A Little Unfamiliar
Except for a few select contestants this season on Bachelor in Paradise, most of them are from the most recent reasons of The Bachelor and The Bachelorette. Among the select few who aren't brand new to the franchise, however, is Astrid Loch. And if you were asking, who is Astrid on Bachelor in Paradise, because you don't remember her from Arie Luyendyk Jr.'s season of The Bachelor, that's totally understandable.
She was actually from Nick Viall's season and didn't make the cut for BIP Season 4, so when she arrived in Paradise for Season 5, it caught some viewers off guard. That being said, if you're new to Astrid or just need a refresher course, I am here to give you the low-down on the former Bachelor contestant.
She may have made it to week four on Nick's season, but after that, she wasn't one of the frontrunners in the franchise, so didn't make many waves or continue on with the franchise. But it looks like she was approached for Bachelor in Paradise for Season 5 and another shot at love. And who can say no to a free trip to a tropical Mexico resort, right?
Outside of BIP, Astrid is a plastic surgery office manager and patient care coordinator, but she also holds a special cause close to her heart. In her Instagram bio, Astrid links out to the Dream Street Foundation. On the organization's website, it says that the foundation is dedicated to providing "camping programs for children and young adults with chronic and life threatening illnesses." There are a few photos on Astrid's Instagram that show her doing volunteer work herself, so this is obviously an important cause for her in real life.
Although she fell off the grid a little bit after her time on The Bachelor, Astrid seems to have remained close with a lot of the other women from her season. There are tons of photos on her Instagram with other contestants from Nick's season, including Rachel Lindsay, who, of course, went on to be the Bachelorette. So now it's Astrid's turn to find love on BIP. It's unclear if she was ever asked to take part in BIP Season 4 or if she just wasn't able to make it work, but this is her second chance at finding love on TV.
If you're having a hard time remembering her on Nick's season of The Bachelor, don't beat yourself up about it. She didn't last as long as many of the other contestants who went on to be part of Bachelor in Paradise Season 4 and there was a whole new installment of Bachelor contestants who joined the franchise since then. During her short time on the show, however, Astrid seemed like she really was there for the right reasons. And although she's another former contestant who isn't above schilling products on social media, she seems like the type of person who is legitimately looking for love in Paradise rather than a way to extend her 15 minutes of fame.
Hopefully, she gets the chance to wow some of the other potential suitors this season and that she isn't sent home before she has the chance to do so. Personally, I wouldn't say no to Astrid and someone like Wills from Becca Kurfin's season of The Bachelorette getting together. But that's just me.