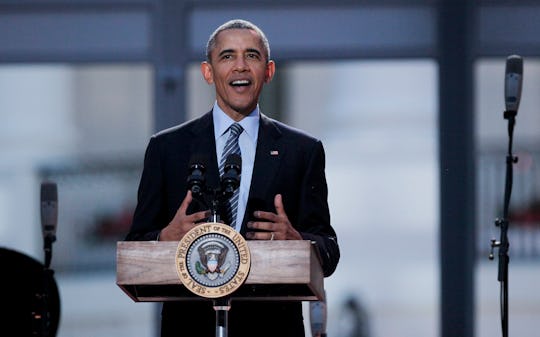 Pool/Getty Images News/Getty Images
Who Is Attending The White House Correspondent's Dinner? It's A Big Night
Every year, everyone who's anyone in Washington D.C. puts on their fanciest dresses and polite "laughing faces" for the White House Correspondent's Dinner. In recent years, the "nerd prom," as it's called, has gotten to be a bigger affair than anything else going on in D.C. And just who attends the White House Correspondent's Dinner might surprise you — there are some really huge names from Hollywood to lighten up the evening. It's the one time a year when people actually tune into CSPAN, which broadcasts the whole thing, on purpose.
This year, the list of celebs is long and varied. According to Variety, Shonda Rhimes, Mark Ruffalo, Kerry Washington, Damien Lewis, Aretha Franklin, and even Kendall Jenner will be dining with Washington elite. Bill Nye, the science guy, Instagram celeb The Fat Jew, Broad City creator's Abbi Jacobson and Ilana Glazer, and none other than former 'Nsync member, JC Chavez, will also be in attendance. As if that weren't a weird enough crowd, Candace Cameron Bure and Uber co-founder Travis Kalanick are also invited. It really is the weirdest night of the year.
And it is weird to have Hollywood and Washington mingle so blatantly. The whole dinner will be hosted by Larry Wilmore this year. Depending on how funny (or how cheap) the jokes get, it's entirely possible you'll be watching clips of the dinner for a week.
In addition to Wilmore MC-ing the evening, it's also a chance for President Obama to flex his comedy muscles, as he has every year since he's been in office. The White House Correspondent's sense of humor is somewhere between dad-jokes about current events and Comedy Central roast. It's the one night where Obama gets to make fun of the newscasters and politicians that get in his way all year long. Rumor has it that he's going for Republican presidential candidate Donald Trump this year, which he has also done in the past, when Trump was leading the birther charge against the president.
David Litt, who has written Obama's White House Correspondent's speech for years said that this campaign cycle is hard to make jokes about. "In some ways it is strange, because this election campaign is so farcical, so exaggerated," he told CNN. "What outrageous thing can you say about Donald Trump that Donald Trump has not already said?" he added. There's really not a lot to work with when you think of it like that.
As odd as it might be though, the White House Correspondent's dinner is always worth Googling the next day. When else do you get to see Obama make fun of Fox News hosts? It's a good reminder that everyone, or most everyone, is simply human and wants to have a good time.