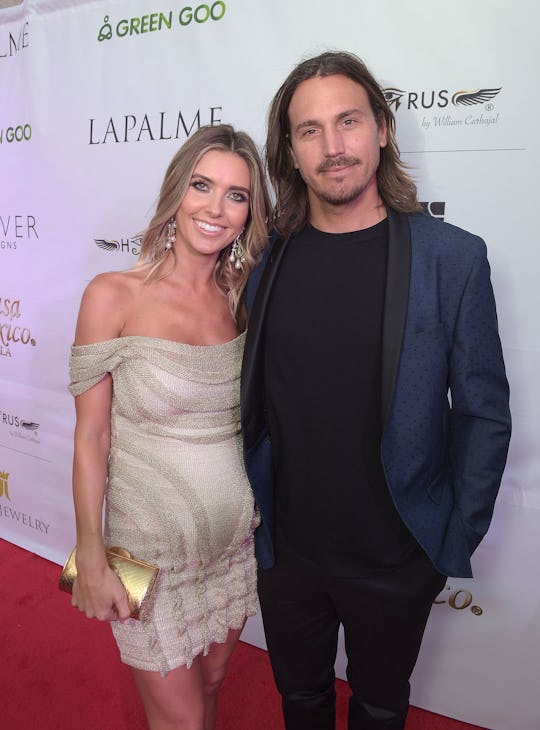 Jason Kempin/Getty Images Entertainment/Getty Images
Who Is Audrina Patridge's Fiance? Her First Date With Corey Bohan Was On TV
Ever since model and television personality Audrina Patridge announced in December that she was expecting a baby girl, the former star of The Hills has been posting adorable pregnancy pics to her Instagram account and keeping everyone on the lookout for the impending tot's big birth announcement. It's also led everyone to wonder: Who is Audrina Patridge's fiancé? Because as clearly evidenced by the photos, he's a looker.
Patridge is engaged to 34-year-old Corey Bohan, an award-winning BMX dirt rider and avid surfer who originally hails from Brisbane, Australia. According to MTV, the couple has been together on and off ever since their nationally televised first date on MTV's The Hills. Patridge told People that Bohan proposed after he first asked her father for her hand in marriage. He then made reservations at a restaurant in their hometown of Orange County, California, and asked a waiter to serve the engagement ring on a silver platter.
"Then all of a sudden the waiter lifted the silver cover and I saw the ring in a box with white rose petals on the plate," Patridge recalled. She later announced their engagement via an adorable Instagram photo captioned, "He proposed and I said….. YES!!!"
For his part, Bohan divides up his Instagram account with surfing photos, biking photos, and adorable couple photos of him and Patridge. So for every one of these:
There's also one of these:
Not surprisingly, Patridge told Us Weekly that Bohan "can't wait" to teach their daughter how to surf. The excited mom might also be teaching the little one a bit about fashion too: Patridge, who briefly hosted 1st Look, NBC's late-night travel show, has posted profligate fashion-themed pregnancy photos to her social media accounts, even promising to "get in the habit of posting more daily outfit shots!"
Many of the photos, like this one, are rather glamorous:
But other photos, like this one captioned "practicing how to baby wrap," are a bit more on the practical side:
Whether Patridge and Bohan's little one is a budding surfer or a fashionista-in-training, it sure looks like she'll be born into a loving family.