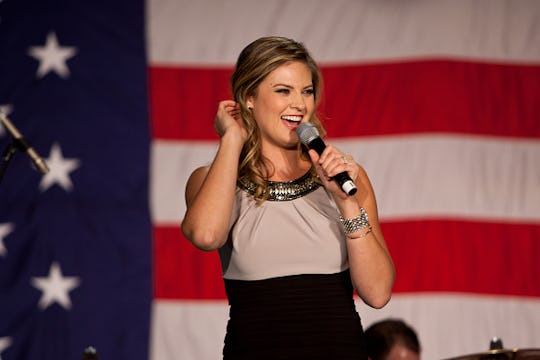 Who Is Ayla Brown? The Singer Of The GOP Debate's National Anthem Has Been On TV Before
During the national anthem at Tuesday's GOP debate, many viewers were asking one question: Who is Ayla Brown? Well, she may be familiar for a few reasons. To political know-it-alls, Ayla Brown is the daughter of former Massachusetts senator and current New Hampshirite senator Scott Brown. But to pop culture enthusiasts, she is a former contestant on American Idol.
Ayla Brown made it to the top 16 during Season 5 of American Idol in 2006, a season that was inevitably won by Jordin Sparks. After her run ended, she attended Boston College on a full basketball scholarship, eventually graduating in 2010 with a degree in communications.
She hasn't let her vocal talent go to waste. She is currently participating in the Defend Freedom Tour, put on by the Concerned Veterans of America with the mission of taking back "the America we know and love." The concert is free to attend, makes multiple stops across the country, and provides attendees with "live patriotic music, a lineup of inspirational speakers, and a delicious taste of local fare."
Whether it was her Senator father, her involvement with the Defend Freedom Tour or the fact that she was on American Idol that snagged Ayla the CNN GOP Debate gig, one thing is for sure: she did a great job singing the national anthem, and the majority of the internet agreed.
Images: Kayana Szymczak/Getty