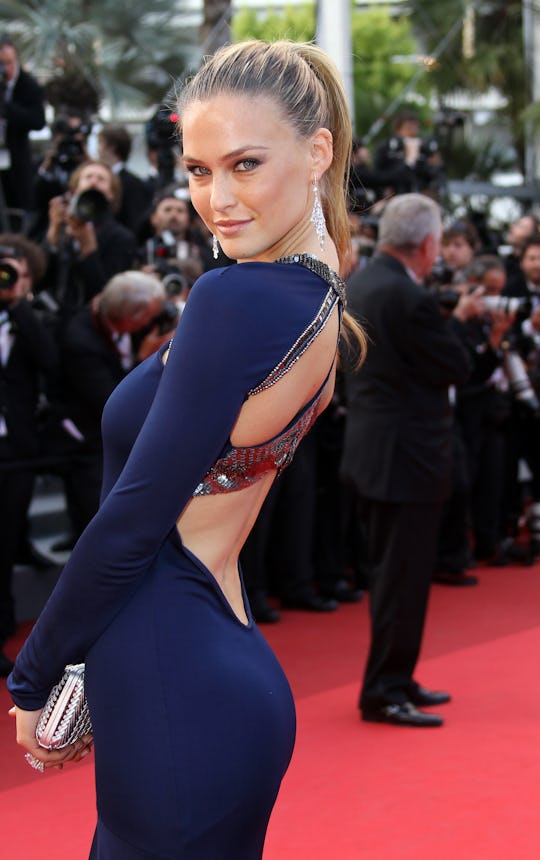 VALERY HACHE/AFP/Getty Images
Who Is Bar Refaeli's Husband? The Couple Just Welcomed Their First Child
Israeli supermodel Bar Refaeli has been waiting for the birth of her first child for some time, even posting on Instagram: "You can come out now ... I'm ready. And heavy." Well, the wait is over, and Radar Online has reported that Refaeli is momma to a baby girl named Liv. Refaeli won't be parenting alone, so who is Bar Refaeli's husband?
Refaeli married 41-year-old Adi Ezra, an Israeli businessman, in a 2015 ceremony in Haifa, Israel. The two had been together for a few years before their wedding, having been introduced by mutual friends who thought they'd be a perfect match for one another. Prior to settling down with Ezra, Refaeli had dated the notoriously model-obsessed Leonardo DiCaprio in a long term on-again, off-again, on-again capacity. The two split in 2011, and Ezra and Refaeli found each other shortly after.
Ezra's family's business is "one of the five leading food conglomerates in Israel." The multi-billion company called "Neto" has been in his family for generations, and Heavy reports that Ezra is the current heir to his family's food fortune. Currently, Ezra's main role is serving as Chief Business Development Officer for Neto Malinda Trading where, according to Bloomberg, he earns a $2.5 million yearly salary.
On Bar Refaeli's Instagram, posts about her husband tend to be simple and understated. She doesn't gush or attempt to list all of Ezra's incomparable attributes, but instead captions photos "my favorite human," calling the father of her baby her "best friend in the world," and adding a cute heart emoji. On Valentine's Day, she posted a red carpet photo of the two of them and added "love is when you give and give and give and still feel like you are only getting" underneath it. It looks like Refaeli's butterflies aren't going anywhere.
Refaeli envisioned this life for herself years and years ago. She told the Israel Hayom newspaper in a 2015 interview that she's always had dreams of motherhood, saying: "I've basically been ready to be a mother since I was 22. I've had names picked out in my head for kids for the last eight years." So, then, was "Liv" one of the eight-year-old names? In speaking of relationship with her husband, Refaeli affirmed that, for the two of them, "everything fits and everything is just right."
According to The Jerusalem Post, Refaeli and Ezra's baby was born at Ichilov Hospital in Tel Aviv, weighing 7 lbs. We wish this new fam all the best and can't wait to see Liv when her parents are ready to share her with the rest of the world!