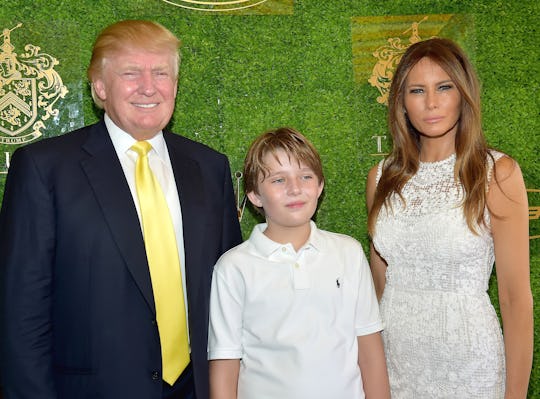 Gustavo Caballero/Getty Images Entertainment/Getty Images
Who Is Barron Trump? 6 Facts About The Youngest Trump Who Wants To Be Just Like His Dad
It's official: The man who wants to put a wall along the Mexican border and ban all Muslims from entering the country is officially one step closer to becoming the leader of the free world. *Screaming internally* On Tuesday, businessman Donald Trump received the Republican Party's official presidential nomination at the Republican National Convention in Cleveland, Ohio. This week, the world got to know more about the Trump family as Trump's wife, Melania, and his children — Donald Jr., Eric, Ivanka, and Tiffany — each spoke on the RNC mainstage. Missing from the family speech lineup was Trump's youngest child. Who is Barron Trump?
As the Trumps stand poised hoping to become the next first family in the White House, there's no doubt that each family member will be scrutinized by the public as voters want to learn more about each member of Trump's family. It would make sense that Barron wouldn't have spoken at the GOP convention this week: He's only 10 years old. And even though Barron has remained largely out of the media spotlight, his mother Melania has revealed tidbits about her son with Donald in various interviews. Let's take a closer look at the littlest Trump.
Barron Trump Is Donald's Youngest Son
Donald became a father for the fifth time at age 56 when Barron was born on March 20, 2006. In an interview with People magazine in September 2015, Donald said, "I've always prided myself on being a good father." Say what you will about Donald, but it's clear his children adore him; he doesn't appear to have estranged relationships with any of his five kids. In a number of interviews and profiles of each of his children, they've spoken very highly of Donald as a father.
Barron's Mom Is Totally Hands-On
Barron is Melania's only biological child and Donald's only child with his third wife. Melania is a full-time mom: In a 2015 interview with Parenting.com, Melania called taking care of her son her "first job." As high profile of a businesswoman as Melania is, she shared that she does plenty of things "regular" moms do when taking care of their kids: packing his lunches, picking Barron up from school, helping him with homework, or going to his's basketball games. Melania told People last year that it's very important to her to be a hands-on mom — which means no nannies for Barron.
Barron Really Likes Playing Golf
When his dad owns 17 Trump Golf courses around the world, it's not surprising that Barron likes to play golf. Golf is also one of Donald's favorite sports, so the father and son get to share their mutual love of the sport together. Barron plays a number of sports in addition to golf, including basketball, baseball, and tennis. Hopefully Barron is just as honest as his father on the green — Donald said he doesn't cheat at golf, according to statements he made to the Associated Press last month.
Barron's Nickname At Home Is "Little Donald"
As much of a hands-on mom Melania is, her husband likes to get in plenty of quality time with their son Barron, too. Barron totally looks up to his father — so much so that Melania's nickname for Barron is "Little Donald." In that same interview, she went on to say that when Barron was 5 years old, "he wanted to be like daddy: a businessman and golfer." But it seems as though Donald's influence on Barron started even younger, as a former Trump butler Tony Senecal told Inside Edition, "When Baron was two-and-a-half years old I took his breakfast into him. He was sitting in his highchair and he looks at me and he said: 'Tony! Sit down! We need to talk!'" Donald is equally as fond of his son, calling Barron a "fantastic young boy" in an interview with E! News last year.
Barron Rocks His Suit And Tie
Barron is a seriously sharp dresser for a 10-year-old. His mother told ABC News that "He's not a sweatpants child." Melania went on to share that not only does Barron like wearing a suit, but that "he likes to dress up in a tie sometimes like Daddy." And Barron really looks like his dad, too — which I'm sure probably fuels his childhood adoration of his father.
Barron Trump Definitely Lives A Life Of Privilege
No matter what can be said about Trump's many bankruptcies, they clearly haven't affected Barron in any way. Barron lives a posh life that affords him more than just silver spoons. Barron has his own floor in Manhattan's Trump Tower — with his own damn living room. (And to think I thought we were rollin' in it as kids when I had my own bedroom.) Melania Trump's Twitter account shows a number of photos of Barron's lavish adventures — from trips to Donald's Scotland golf course, to jet skiing with mom, to swimming with the dolphins.
Oh, and don't forget the $150 (an ounce!) Melania Trump Caviar Complexe C6™ Luxe Moisture slathered all over Barron before bed. No, for real, Melania puts her caviar moisturizer on Barron after his bath: "I put it on him from head to toe. He likes it!" Apparently, it's the "Cristal of face cream," according to one writer at the New York Daily News.
Now, if Trump gets elected president this November — will Barron get his own wing of the White House? Guess we'll just have to wait and find out.