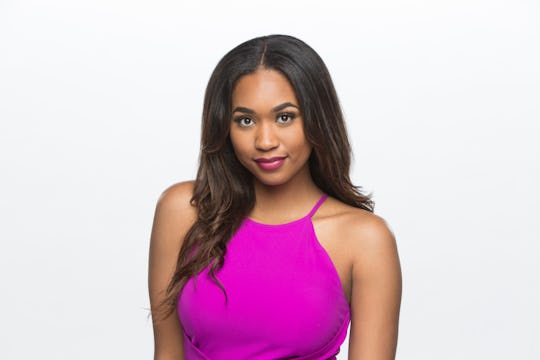 Sonja Flemming/CBS
This 'Big Brother' House Guest Used To Wear A Pageant Crown
The cast for the new season of Big Brother has been revealed and it looks like this season will be interesting. Amongst the standouts this season is Bayleigh Dayton, but who is Bayleigh and what can we expect to see from her in Big Brother 20?
According to her cast bio, Bayleigh is 25 and is originally from Lees Summit, Missouri, but currently lives in Atlanta, Georgia where she works as a flight attendant. Bayleigh describes herself as "engulfing, adventurous, and unpredictable." Her favorite activities are yoga (she's a certified yoga instructor), watching random TV shows and Marvel movies, and traveling, which makes sense since she's a flight attendant.
Bayleigh believes the most difficult part of being in the Big Brother house will be not psyching herself out. In her bio she said, "It's obviously a game and I am a competitor hands down, but I have seen how quickly people turn on one another, so it will be hard to trust anyone in there. Plus, I call people out in real life so keeping my thoughts to myself and not showing my reactions on my face is hard."
When it comes to her favorite past house guest, Bayleigh made it very clear that she loves Donny Thompson from Big Brother 16. In her bio he called him "the most fun-loving and sweet man ever." She also added, "You rarely run across genuine hearts but he was as real as it gets."
As for her strategy for the game, Bayleigh plans on being "Miss Congeniality" but not being "fake or too nice. [I want to] just be that girl that people feel comfortable around but still dominates in the competitions." Her bio continues, "I want to stay clear of the drama and let the bombs self-destruct. But I also want everyone to fear me just a little. My dad always said that defense wins games. So let's just say, my D is going to be full coverage."
Bayleigh's life motto is, "Learn to walk with kings and queens, but never lose the common touch." She also quotes Kendrick Lamar's "Humble," stating, "A wise man once said, 'Be humble. Sit down.'" Just like every houseguest, Bayleigh won't be able to bring much into the house besides her clothes and makeup, so when asked what she would take into the house she said her bible, her yoga mat, and her camera so she could "capture the memories" and have "content for Instagram."
Besides her work as a flight attendant and yoga instructor, Bayleigh was also the first-ever African-American Miss Missouri. Other fun facts about Bayleigh include that she loves cartoons and Marvel comics, she was once on a flight where the engine blew, and she gets hit on every day while being a flight attendant.
During an interview with Ross Matthews, who was just on the first season of Big Brother: Celebrity Edition, Bayleigh revealed that she is currently single and while she doesn't like the term "showmance" she's not saying no to the possibility of finding love in the house. For those new to Big Brother, a showmance is exactly what it sounds like. It's when two houseguests begin a relationship in the house. While showmances don't always last there are certainly a good number of them that do like Jessica Graf and Cody Nickson who developed a relationship during BB19 and are now engaged.
Showmances aside, Bayleigh noted that she believes "boys" will be her biggest weakness just in general. "I went to an all-girls private Catholic school, I don't know how to handle boys, I'm the youngest of all girls... like I don't know what [boys] even are," she told Ross.
Well, Bayleigh will definitely find out since she'll be living with eight boys in the house. Hopefully, she'll be able to figure out how to beat them all. You can meet Bayleigh and the other house guests when Big Brother premieres on Wednesday, June 27 at 8 p.m. EST.