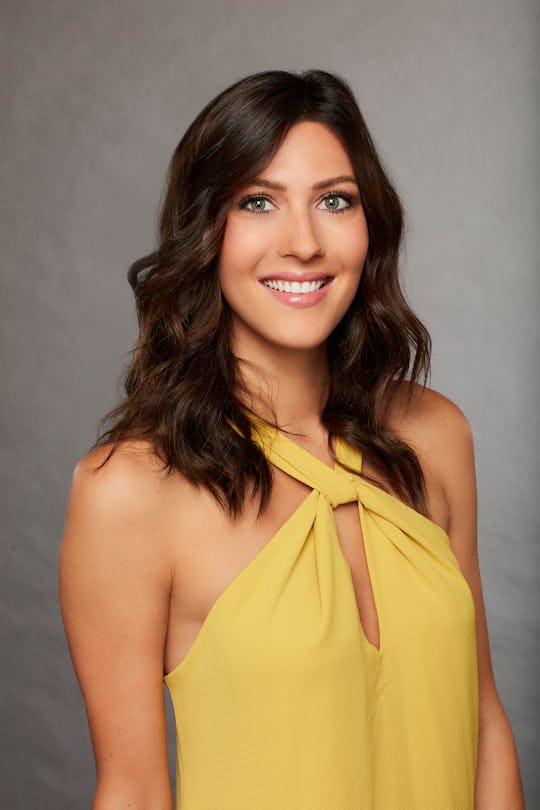 Craig Sjodin/ABC
Everything You Need To Know About Becca's Mom On 'The Bachelor'
Becca K. came full circle on The Bachelor this season: after receiving the very first one-on-one date, she also got the first hometown date rose in Tuscany, meaning that she and Arie Luyendyk, Jr. will be making their way to Minneapolis, Minnesota to meet her family, the Kufrins. We learned from her first one-on-one date of the season that Becca's dad died about a decade ago, but who is Becca's mom on The Bachelor? She'll be part of the delegation that welcomes Arie.
When Arie asked Becca who he'd be meeting if they went on a hometown date together, she revealed that her mom Jill, her mom's boyfriend Tim, and her Uncle Gary would all be there. Becca also has a sister named Emily who recently got engaged. During previews for the hometown dates episode, we see Becca's family do the usual protective-of-our-Becca song and dance routine, and her mom seemed especially resistant to the idea of an engagement. It might just be tricky editing, but when Becca tells her mom there could be an engagement "at the end of all this," trying to convince her that it's all real, Jill skeptically responds, "No." It has a very motherly "I don't think so" vibe but will she really stand in the way if Becca gets the final rose?
It's understandable for the Kufrin family to be protective. Becca's dad Steve, an avid wetlands and waterfowl activist, according to the Star Tribune, died in 2009 when Becca was just 19 years old. He'd suffered a five-year battle with brain cancer. Becca's parents married in 1983, and Jill painted a vivid picture of the ceremony in a profile of Steve done by the Star Tribune did after his death.
"After we left the church, we drove a short way down a little dirt road. Then we stopped and all of his buddies stood up from the ditch, dressed in camouflage, and gave us a 21-gun salute,'' she said. "Then we got into a duck boat on a trailer, and we were pulled through Benson like that, with me in my wedding dress." The Kufrins spent their wedding night in a friend's duck camp. "Duck shack,'' she corrected.
Jill, who, according to the Savage Pacer, was an elementary school teacher for 20 years before retiring in 2013, is currently in remission from breast cancer herself. So it's safe to say that her family is looking to avoid any more heartbreak.
Arie seems to have a tough road ahead of him for hometown dates, from the looks of the sneak peek. Not one of the families seems to greet him particularly warmly, and everyone appears to be eyeing him with suspicion. He claimed during his Tuscan one-on-one date with Becca that he liked tough questions because they warranted honest answers, but is he really ready for a week of nonstop grilling from four women's understandably worried families?
In addition to meeting the Kufrins in Minneapolis, Arie will be traveling to Arkansas to meet Tia's family, to Virginia Beach to meet Lauren B.'s family, and to Los Angeles to meet Kendall's family — both her human family and her taxidermied family. And as the show has been teasing all season, we know an ex-boyfriend shows up right before the final rose ceremony to win back his ex, although we don't know who the lucky contestant is just yet. So it looks like the families are right to be concerned: even though it's been a sleepy season so far, drama and/or heartbreak looms nigh.
Check out Romper's new video series, Romper's Doula Diaries:
Watch full episodes of Romper's Doula Diaries on Facebook Watch.