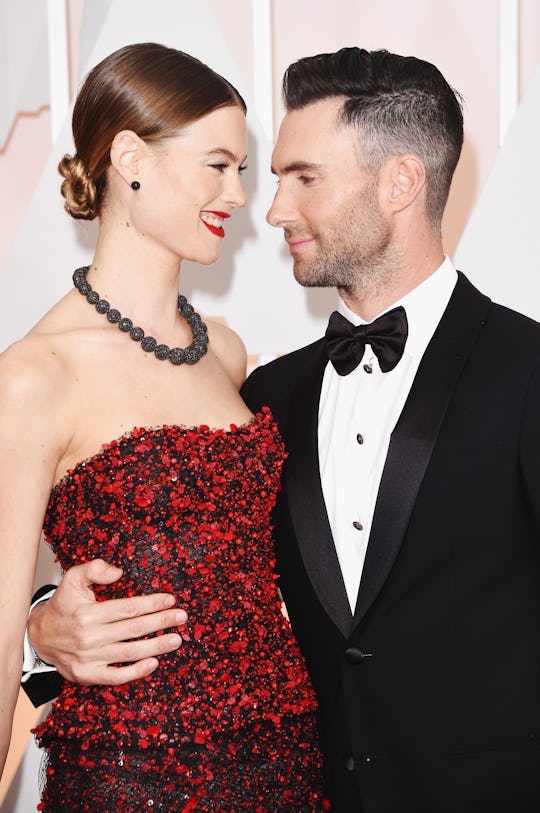 Jason Merritt/Getty Images Entertainment/Getty Images
Who Is Behati Prinsloo? Adam Levine's Wife Is Pregnant With Their First Baby
Adam Levine's dreams are coming true. First, he marries the incredible Behati Prinsloo, and now they have some more big news to celebrate: Prinsloo is pregnant with the couple's first baby. But, who is Behati Prinsloo? Her story is really interesting.
Prinsloo was born in Namibia and grew up speaking Afrikaans. At age 16, she was discovered by Storm Model Management and went on to become the face of many brands, most notably Victoria's Secret and Tommy Hilfiger (who re-staged Prinsloo and Levine's wedding photos for a campaign). Though Prinsloo seems to be a natural in front of the camera, modeling was not in her blood. In fact, her father is a church minister and her mother runs a bed and breakfast. She told Fashionista how her career got started:
I was in Cape Town on vacation with my grandmother and grandfather. We went to the grocery store after church and this guy came up to me and asked if I was a model and wrote his number on a piece of paper and my grandfather was like, 'This is so shady.' So we went home and told my parents about it and never did anything. And then the next time I was in Cape Town, Noelle [Doukas, daughter of Sarah Doukas founder of Storm] came up to me and asked me to come into the agency. So I finally went in and signed with Sarah right there. I spent the summer in Cape Town, and it went really well, so they shipped me off to London.
In London she lived in a flat shared by models. She described the experience as traumatizing, and frankly, it sounds like it. "Girls are the dirtiest people ever," she said. "For the most part the flats would be empty. But then there would be older girls — and I was like 16 — who would bring their boyfriends home, which was strictly not allowed and I would hear everything. Or I'd wake up in the morning and there would be like a man in his underwear on the couch. It was awful."
In 2012, she met and began dating Maroon 5 frontman, Adam Levine. He proposed in 2013 and even asked Prinsloo's parents (whom he had never met) for their approval beforehand. In an interview with Celebuzz, Prinsloo's father, Boet Prinsloo, opened up about Levine's proposal:
I have the greatest respect for Adam, the way he handled the whole situation, Behati as well. We talked to each other and he presented himself in such a way to me that I appreciate him for that. Every choice that my daughter makes with anyone in her life we'd be happy to have them as part of the family. And we are happy to have Adam as part of the family.
His proposal even surprised Prinsloo. People reported that she said, "I am so happy and excited and still can't believe it's true. It was a one-knee thing! It was serious, it was very old school!" For Levine, fervent bachelor for so many years, to get down on one knee? That's love.
That love, it seems, has not faded since they were married in 2014 in Mexico. Several sources have told Us that Prinsloo is about three months along in her pregnancy and that Levine is "over the moon." It makes sense; he's been dreaming about this moment. During a KIIS FM radio interview with Ryan Seacrest, he was asked about starting a family. He did not hesitate to say, "We're definitely going to do it." He went on, "I want to have 100 kids. I want to have more kids than would be socially responsible." He's well on his way.