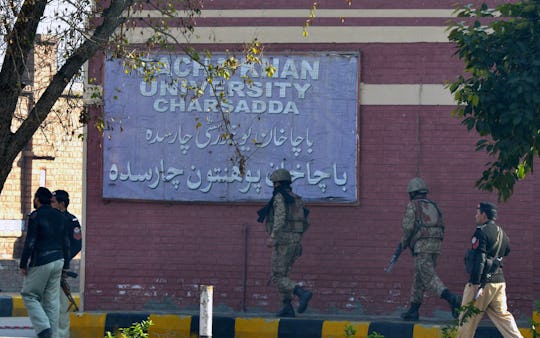 Who Is Behind The Bacha Khan University Attack? A Terrorist Group Claimed Responsibility
At approximately 9:30 a.m. local time in Charsadda, Khyber Pakhtunkhwa, Pakistan, a deadly attack broke out at Bacha Khan University. While details are still emerging, CNN reported that it all began with an "explosion at front gate...[followed by a] torrent of gunfire on campus." So far, 19 people were left dead and 17 injured — though provincial home minister of Khyber Pakhtunkhwa said he expects the death toll to rise. But who is responsible for the Bacha Khan attack? One terrorist group has claimed responsibility.
A senior Taliban commander, Umar Mansoor, claimed the Pakistani Taliban was behind the savage incident, according to the BBC. According to Mansoor, the raid and siege of the school was carried out by four suicide attackers, and was in response to a military offensive against militant strongholds. But, the Taliban's main spokesman, Mohammad Khurasani, denied involvement, condemning the attack and referring to it as "un-Islamic," according to the BBC. (The Pakistani Taliban was responsible for the 2014 Northwestern Palestine school attack, in the city of Peshawar, which left 140 people dead.)
According to Saeed Wazir, the Charsadda police chief, security forces killed four attackers before they could detonate their suicide vests; however, it is not yet clear if there were more than four attackers.
Those in the school describe the scene as chaos. One student told television reporters he was in class when he heard gunshots, according to the BBC:
We saw three terrorists shouting, 'God is great!' and rushing towards the stairs of our department...[o]ne student jumped out of the classroom through the window. We never saw him get up.
There are also reports that a chemistry lecturer, Syed Hamid Husain, shot back at the gunmen to give his students time to flee. According to the BBC, Husain was killed.
Bacha Khan University is located in the Charsadda District, less than 40 kilometers (25 miles) from Peshawar. Opened in 2012, it is a public university, and the school gets its namesake from in the great peace activist and leader, Bacha Khan. About 3,000 students are enrolled at the university, but hundreds of visitors were also expected to be on hand Wednesday morning for a event in honor of Khan.
In a statement issued from Switzerland, where Pakistan's prime minister, Nawaz Sharif, was attending the World Economic Forum, Sharif condemned the attack:
We are determined and resolved in our commitment to wipe out the menace of terrorism from our homeland...the countless sacrifices made by our countrymen will not go in vain, inshallah.
Just days ago, some schools in Peshawar were closed amid reports of an impending attack.
Image: A. Majeed/Getty Images News (3)