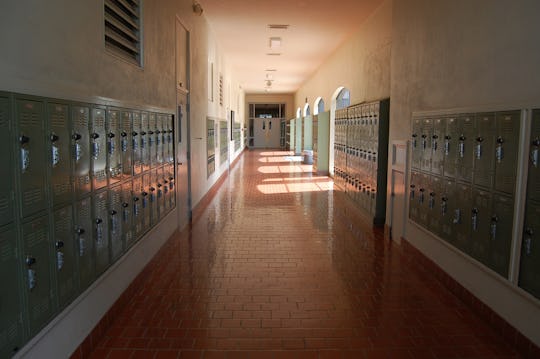 Who Is Behind The Bomb Threat In The L.A. Unified School District? Police Received The Tip Electronically
Los Angeles Unified School District campuses closed Tuesday after a "credible" bomb threat, according to the Los Angeles Times. School officials said the school was acting out of an abundance of caution, though the threat hasn't been verified by police. Officials said that the school will not reopen until all of its campuses have been cleared. Who is behind the bomb threat at LAUSD schools? That is yet another piece of information that wasn't clear Tuesday.
(Update: The L.A. school terror threat is believed to be a hoax, according to the House Intelligence Committee.)
In a statement, Superintendent Ramon Cortines said the threat was made against several Los Angeles schools, according to CBS. Though bomb threats aren't a rare occurrence, Cortines told CBS that this one is unique because the electronic tip said multiple campuses were threatened. He ordered schools to be searched by the district's police department (in conjunction with the LAPD and Los Angeles County Sheriff's Department) for anything suspicious. The superintendent also said parents will need identification to pick up their children from an assigned gate.
It was unclear who was behind the threat Tuesday morning, but The Los Angeles Times reported that an unnamed board member received information about the threat through electronic communication, though it's unclear exactly what that means. As of right now, police haven't divulged whether they know who sent the tip and if that person is a suspect.
Comprised of 900 schools, the LAUSD closure will keep almost 700,000 students, teachers, and staff home for today in an "almost unprecedented situation," according to Vox. "We are taking this action in abundance of caution to make sure that every child in the LA Unified School District and every employee is absolutely safe," Steve Zimmer, president of the LA Unified school board said, according to CBS News.
According to ABC News, Los Angeles Unified School District Spokeswoman Shannon Haber said the electronic threats have been traced to Frankfurt, Germany. However, it's still unclear who is behind this incident. Haber also maintained that she can't comment on other threats received by other districts and their relationship to LAUSD's situation. "At this point, we're focused on LA Unified," she said, according to ABC News.
Though Los Angeles Schools are closed for today, New York City officials also claimed they received also received a threat but it was determined to be a hoax. The email New York officials received was filled with misspellings and awkward wording, and New York Mayor Bill de Blasio said the threats were "so generic, so outlandish" that they couldn't be credible, the Los Angeles Times reports. "It would be a huge disservice to our nation to close down our school system," de Blasio said. Like the LA threat, the NYC threat was addressed to several school systems, but it is unknown whether the sender is the same person or linked to the LA threats.
ABC News also reported that an anonymous official said the threat included the use of student's backpacks, but wasn't able to speak further as the investigation is ongoing. However, San Fernando Valley Rep. Brad Sherman told CNN more about what the threat outlined:
The threat contained a "pornographic reference" to a human body part and claimed that there were backpacks with bombs on Los Angeles Unified school campuses, among others, he said. The person claimed to have access to nerve agents and boasted having 32 accomplices to help in the attack.
During a 10 a.m. PST press conference, Los Angeles Mayor Eric Garcetti said he supported the school district's move — in light of San Bernardino shootings — as "decisions need to be made in a matter of minutes." LAPD Chief Eric Beck also backed Cortines and the LAUSD. "Southern California has been through a lot in the recent weeks. Should we really risk putting our kids through the same?" he asked.
"Sometimes we have to make tough decisions," Los Angeles School Police Chief Steve Zipperman echoed during the conference. Though schools are being checked, Zipperman commented that schools will not be reopened until joint investigations by school police, the LAPD, federal officials, and the Board are completed.
Image: Kevin Krejci/Flickr