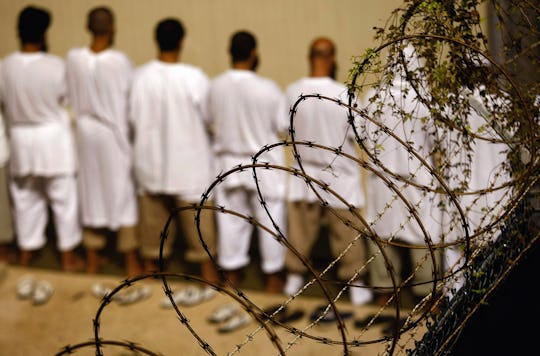 John Moore/Getty Images News/Getty Images
Who Is Being Held At Guantanamo Bay? Only 91 Detainees Remain
President Barack Obama announced his plan to finally close the United States military prison at Guantánamo Bay, Cuba, on Tuesday morning. Obama said, "For many years, it's been clear that the the detention facility at Guantánamo Bay does not advance our national security; it undermines it." Who is still being held at Guantánamo Bay? Of the nearly 800 original detainees, 91 remain. The New York Times maintains an up-to-date list of the detainees. Only three have been convicted by the Office of Military Commissions. Seven have been charged, but not yet convicted. 46 are being held indefinitely, and 35 have been recommended for transfer.
While the plan to close Guantánamo Bay originally had bipartisan support — both Obama's predecessor, President George W. Bush, and his 2008 presidential campaign opponent, Arizona Sen. John McCain, also endorsed closing the facility. But, after Obama took office and began actively taking steps to close it, the Republican-led Congress began imposing restrictions that prevented its closure. Obama said that not only is the facility expensive to run, but it's "contrary to our values" and a "stain" on the U.S. record. The facility has become synonymous with "enhanced interrogation techniques," aka torture, and terrorist groups have been known to use its existence as a recruiting tool.
While some of the so-called "high value" prisoners are lieutenants of the Taliban or Al Qaeda, such as Khalid Shaikh Mohammed, who was the alleged mastermind behind the Sept. 11, 2001, attacks against the U.S., others are a lot lower down the food chain. There are members of lesser-known groups, such as the Islamic Movement of Uzbekistan, the Libyan Islamic Fighting Group, and Jemaah Islamiyah. A number of detainees were seemingly not so important to their organizations. Take, for example, Abdul Zahir, who claims that he fell into hospitality work within Al Qaeda after leaving his job as a third grade teacher because his wife was homesick.
Of course, that's not to say that the detainees, at least the majority of them, aren't dangerous. The facility also houses Riduan Isamuddin, a suspected bomber thought to be responsible for the Bali bombings of 2002, which killed more than 200 people; and Mohammed Nazir Bin Lep, a suspected member of a terrorist cell that reportedly planned to hijack a plane and fly it into the U.S. Bank Tower in Los Angeles (aka the Library Tower) in 2002. But holding these detainees Guantánamo Bay is costing the U.S. millions of dollars, as well as the respect of other countries. Obama's plan is to transfer 35 of them to other countries, and accelerate the process to review the status of the remaining ones, so that perhaps more can be transferred. The remaining detainees will be held in a maximum security facility on U.S. soil (no facility has yet been chosen), and Obama hopes to change the military commissions process so that charges can be expedited.