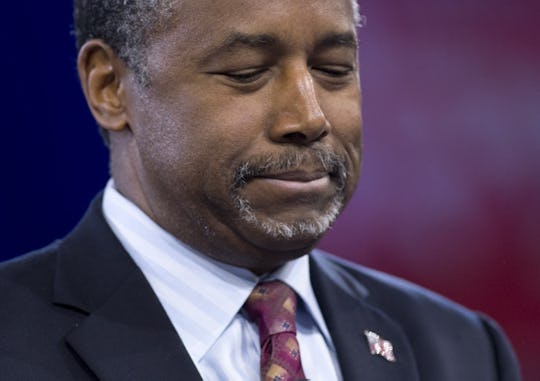 SAUL LOEB/AFP/Getty Images
Who Is Ben Carson Going To Endorse? The Candidate Isn't Picking Favorites
A few months ago, it looked like it was possible that Ben Carson would have a real shot at winning the Republican nomination for president. The the primaries actually began. After gathering just eight delegates, total, after Super Tuesday, the doctor has finally ended his campaign. But who's Ben Carson going to endorse? It looks like he's not planning on endorsing anyone at all.
Update: Ben Carson endorsed Donald Trump on March 11, according to CNN. He said that the Trump people see on stage is not the "real" Trump:
He's actually a very intelligent man who cares deeply about America. There's two different Donald Trumps. There's the one you see on stage and the one that's very cerebral, sits there and considers things very carefully.
After officially ending his campaign in a speech to the Conservative Political Action Conference on Friday, Carson released a statement on Facebook about his plans for the rest of the election season. Carson wrote that he would be serving as an honorary chair at My Faith Votes, a Christian voting organization, dedicated to "mobilizing the 25 million Evangelicals who didn't vote in the last election." In focusing on faith-based issues, it's possible that he could throw some more support behind Texas Sen. Ted Cruz, who is working to earn the evangelical vote. With Carson out, there's not much more competition for that voting block.
Although he's not going to endorse anyone in particular, Carson did lay out a "5 Point Voting Plan" for Republicans. He asks that members of the party make their decision based on:
Whether they have demonstrated significant accomplishments over their lives and careers.
If they have ideas that are clear and policies that are easy to find.
How they treat their family and others, as that is how they will lead the country.
What they have done to improve the lives of Americans; the people they are with, what they are saying and how they collaborate with others.
Their ethics, because what America needs is "Trickle-down ethics.
It's hard to tell who Carson believes lives up to all of those criteria, but the former neurosurgeon told reporters afterwards that he believed all of the candidates were capable of being president. Even Donald Trump, who has attacked Carson personally in the past and said he had a "pathological temper" back in November when Carson was faced with allegations that he had lied about receiving a scholarship to West Point.
Carson has forgiven Trump it seems. Or at least seen through him, according to CNN. Carson said that Trump's main goal is to be "successful." He pointed out that it was likely Trump would "appoint people who were very, very good and very, very smart and he would largely stay out of their way."
Carson is taking a pretty measured approach in waiting to see who the nominee is before stumping for a candidate. It's possible that none of them fit into his voting criteria. It's more likely that he's more interested in a Republican winning the general election next fall no matter who it is. Supporting one or the other now, in the middle of primary season, would cause more trouble than it's worth. No one wants to end up like New Jersey Gov. Chris Christie, right?