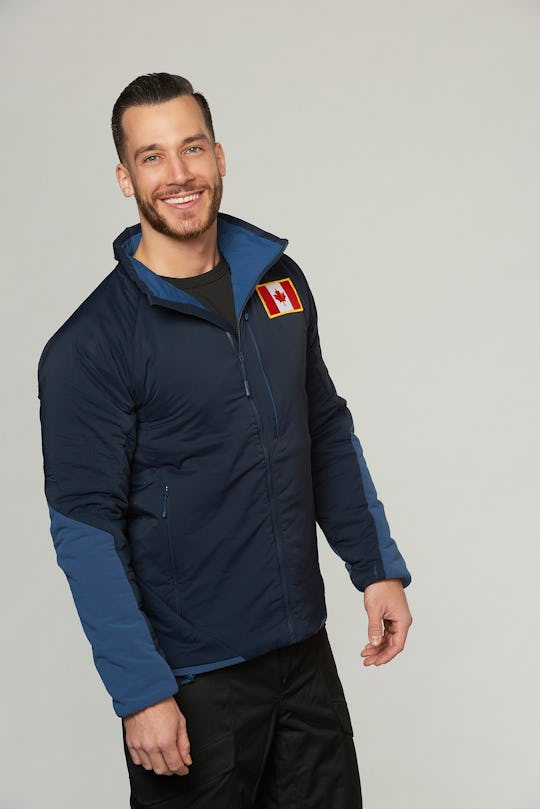 Edward Herrera/ABC
Benoit Will Prove To Be An Instant Charmer On 'The Bachelor Winter Games'
Welcome to 2018, where ABC somehow found another way to get Bachelor Nation watching: The Bachelor Winter Games. The show features cast members from all over the world, like Benoit Beauséjour-Savard, who definitely has the best name by far out of everyone. So who is Benoit on The Bachelor Winter Games? He was a contestant on The Bachelorette Canada, but he'll be playing along with contestants from other international Bachelor franchises as well as the U.S. versions. Former Bachelor Ben Higgins and former fan favorite and almost-Bachelor Luke Pell are among them. As I've never seen or heard of Benoit before — I didn't even know that so many international versions of The Bachelor existed — I'm excited to learn more about him and see how he competes.
Benoit is 31-years-old and went on Season 1 of The Bachelorette Canada. According to ET Canada, Benoit is from Montreal, Quebec and was a maitre d' at the time. The show aired on The W Network, which released statements on all the contestants. "As a Maître D' in trendy Old Montréal, 29-year-old Benoit is constantly surrounded by a bevy of beauties… and yet he is still searching for the love of his life," Benoit's announcement read. "Benoit dreams of finding a loving wife and starting a family of his own, but he is holding out for the right girl – someone who knows what she wants, has a great sense of humor and is as outgoing and generous as he is."
The first Canadian Bachelorette was Jasmine Lorimer, a hairstylist from Ontario. According to The W Network's announcement, "Benoit is ready to sweep the Bachelorette off her feet with his joie de vivre… and his sexy George St-Pierre's French accent!" Well, unfortunately, his joie de vivre and sexy accent didn't do it for Jasmine. Benoit made the top five on The Bachelorette Canada but was then eliminated. Apparently, Jasmine canceled a group date in favor of sitting down with three different men to talk to them about upcoming hometowns.
Benoit explained that he was worried his family would fall in love with Jasmine if they met her because their relationship wasn't a guarantee. She ended up not choosing him for a hometown date, but he made a classy departure. "You're in good hands right now. Those three guys are beauties and they're gonna take care of you," Benoit told Jasmine. "Thank you for this experience, journey. I wasn't expecting to meet you. You're such a nice person, a wonderful human being you are."
Jasmine ended up getting engaged to winner Kevin Wendt, but they broke up soon after. In an Instagram post, Jasmine made an announcement. The photo was simply of a beach, but the caption was like a diary entry. "[Kevin and my] differences and the physical distance have taken a toll on us and a couple of months ago, we decided to end our relationship and take some time to work on ourselves individually," Jasmine said. She did comment, though, that there are no hard feelings between them.
Well, now Benoit gets a chance to be in front of an American audience and show off both his accent and his charm for The Bachelor Winter Games. He seems like he's a fun, gentlemanly person so I'm excited to see how he fares. I can already imagine other contestants fawning over his accent and the fact that he's from Montreal. Perhaps he and Jasmine not ending up together is actually fate, and the Canadian is meant to fall in love with an American on a game show. I won't hold my breath, but that'd certainly be a love story worthy of 2018.
Check out Romper's new video series, Romper's Doula Diaries:
Watch full episodes of Romper's Doula Diaries on Facebook Watch.