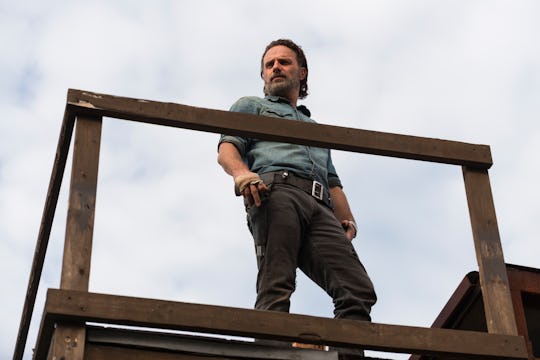 Gene Page/AMC
'The Walking Dead' Finale Was Dedicated To Bernie Wrightson
When The Walking Dead Season 7 finale, "The First Day of the Rest of Your Life," came to an end, a title card flashed on the screen before the credits began that dedicated the episode to Bernie Wrightson, which was a name that was sure to be familiar to comic fans. But if you are less familiar with his work, you might be wondering: who is Bernie Wrightson?
Wrightson was a comic book artist known for his intricate art and flair for horror, as well as for co-creating the DC comics character the Swamp Thing. He passed away on March 18 of this year at the age of 68 after a lengthy battle with brain cancer that led to his decision to retire in January 2017. In addition to his work in comics, Wrightson illustrated Mary Shelley's Frankenstein, which his wife Liz Wrightson said he considered his "magnum opus." He also illustrated other novels and magazines and designed characters for films like Galaxy Quest and Ghostbusters. Wrightson is survived by his wife Liz, his sons John and Jeffrey, and his stepson Thomas Adamson.
His work was incredibly influential, with filmmakers Joss Whedon and Guillermo del Toro posting tributes to him on Twitter following his passing. He was also a clear influence on The Walking Dead, and the dedication in the finale wasn't the only way the show has honored him.
In Episode 6 of Season 6 of The Walking Dead, "Always Accountable," one of the walkers featured in the episode was intended as a tribute to Wrightson's art. Executive producer, director, and special effects make-up artist Greg Nicotero based the zombie's design off of Wrightson's Swamp Thing character. Before the episode aired, Nicotero announced on Instagram, "Tomorrow night's episode has a tribute walker inspired by the genius of Bernie Wrightson! Stay tuned!" According to Entertainment Weekly, they also referred to that zombie as "the Bernie Wrightson zombie."
Wrightson's work was obviously inspirational to the people behind the scenes on the show, and it was a moving gesture for them to acknowledge that influence by dedicating the episode to him. The impact of his intensely detailed and often gory style of art can definitely be seen in the many zombies that have crossed the heroes' paths on the show even if they weren't directly based on his work.
Wrightson may not have been directly involved with The Walking Dead, but his work has left an indelible impression on the series nevertheless.