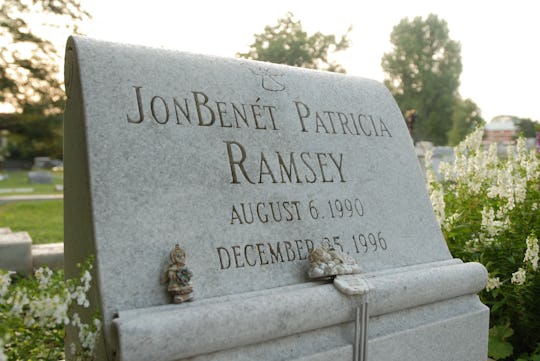 Barry Williams/Getty Images News/Getty Images
Who Is Bill McReynolds? The JonBenet Ramsey Suspect Had Ties To The Family
It was nearly 20 years ago when the mysterious JonBenét Ramsey murder case shocked, and mortified people around the world. JonBenét was a 6-year-old beauty queen who was found dead in her family's home in Boulder, Colorado in December of 1996. Shortly after Ramsey was found dead, investigators pursued a number of suspects, including the 6-year-old's parents, Patricia and John Ramsey — but the couple weren't the only suspects on the investigators' radar. So who is Bill McReynolds? The family friend, who died in 2002, was considered in JonBenét's murder.
According to a 1999 New York Post article, McReynolds was a retired journalism professor and a close friend of the Ramseys. McReynolds played Santa Claus at a Christmas party at the Ramsey house a few nights before JonBenét was killed. His wife, Janet McReynolds, was also reportedly present at the party.
Other connections between McReynolds and the Ramsey family have apparently been a cause for concern for investigators. The Guardian reported that McReynolds had allegedly given JonBenét a Christmas card which reportedly stated that the 6-year-old would be receiving a "special present" after Christmas. Additionally, the McReynolds' 9-year-old daughter was reportedly abducted on Dec. 26, the same day JonBenét was found dead, only years prior in the 1970s. Another eerie-sounding connection theory, is that Janet McReynolds had allegedly written a play about a young girl who had molested, tortured and killed in a basement in 1976. Romper attempted to reach out to original representatives for the McReynolds, but was unsuccessful.
According to a CNN report in 2006, Trip DeMuth, an original prosecutor on the case, said that McReynolds' alleged Christmas card to JonBenét was particularly concerning:
Statements like that led me to have some sort of suspicion: What was going on between Santa Bill and JonBenét? Again, he is an individual who was involved with her, had an interest in her, was seen with her, shortly before the murder.
The McReynolds were reportedly cleared of charges after submitting DNA samples, CNN reported.
It's certainly a mysterious, and heart-breaking case that has long raised many questions about the young girl's death. And 20 years later, the conversation will likely continue on a mainstream level. Following the success of shows recounting murder cases and trials like, The People v. O.J Simpson, and Making A Murderer, both CBS and Lifetime are bringing JonBenét's story to TV this year.
CBS will air a six-hour, three-part documentary series called The Case of: JonBenét Ramsey in September, The New York Times reported. Lifetime will present a TV movie called Who Killed JonBenét? sometime this fall.
JonBenét Ramsey's 1996 murder case remains unsolved.