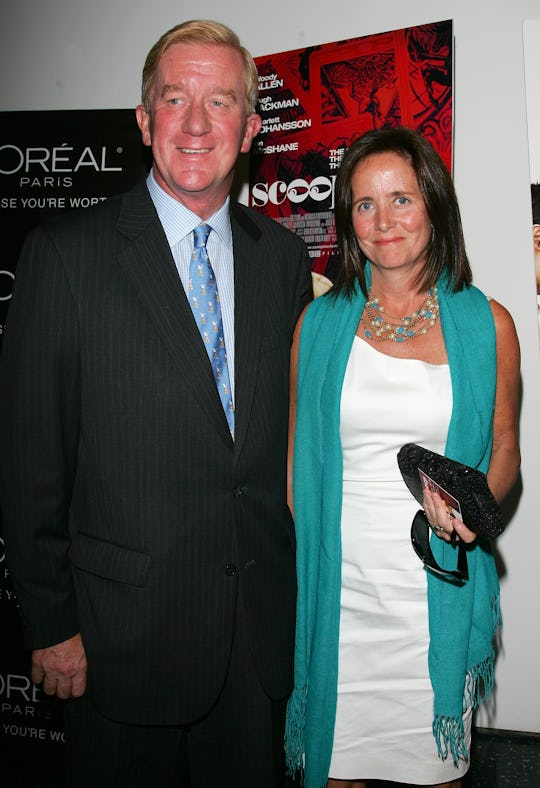 Evan Agostini/Getty Images Entertainment/Getty Images
Who Is Bill Weld's Wife? She Has Serious Credentials As A Writer
There's a third party creeping toward the White House, with Gary Johnson and Bill Weld (former governors of New Mexico and Massachusetts, respectively) leading the way. They're running as Libertarians, Weld only recently joining the ticket as a vice presidential candidate. In a year when the presumptive Democratic and Republican nominees struggle to build sustainable national fandoms, Libertarian frontrunners are getting a surprising amount of attention (from a CNN town hall to coverage on Full Frontal with Samantha Bee). Now that the nation is getting to know the prospective Libertarian president and vice president, who is Bill Weld's wife? Leslie Marshall is a novelist and magazine writer with impressive credentials.
Weld initially married Susan Roosevelt Weld; according to New York Magazine, they spent 26 years together. The great-granddaughter of the 26th U.S. President Theodore Roosevelt lectured at Harvard and specialized in the study of China. After Susan and Weld divorced, Weld married Leslie Marshall; apparently, the two had known one another for a long time.
Marshall attended the National Cathedral School, Washingtonian reported. Founded in 1900, the Washington D.C.-based school specializes in girls' education. Marshall went on to earn her B.A. from Bryn Mawr College, according to LinkedIn, a women's college located outside of Philadelphia. Marshall's bio on Grove Atlantic's website indicates that she's written for publications including Real Simple, O: The Oprah Magazine, and The Washington Post. She's also worked as an InStyle contributing editor.
Released in 2004, Marshall's first novel, A Girl Could Stand Up, earned interest from critics. She got high praise from acclaimed author Edmund White, The Washington Post reported: he described Marshall as "the Homer of the dysfunctional modern American family." On Amazon, the book has a four-and-a-half-star rating out of five; a Publishers Weekly review that appears on the page called it "charming."
It appears as though Marshall hasn't had a novel published since her first, but she's understandably busy now that she could be the Second Lady of the United States. Marshall had two daughters and a son of her own before marrying Weld, according to New York Magazine; Weld had five children before marrying Marshall. In the summer of 2015, Weld and Marshall settled into a $1.25 million Tudor-style home in Canton, Massachusetts, The Patriot Ledger reported.
Weld's vice-presidential run will likely demand a great deal of vulnerability from his family, but it seems as though Marshall is prepared to take on the scrutiny and intellectual challenge that comes with navigating the political landscape. Weld's friend, Charlie Steele, told New York Magazine that Marshall is "brilliant and is interested in the same literary scene that Bill loves about New York," adding that she "reenergized him." That energy will be useful during the grueling months leading up to the November election.