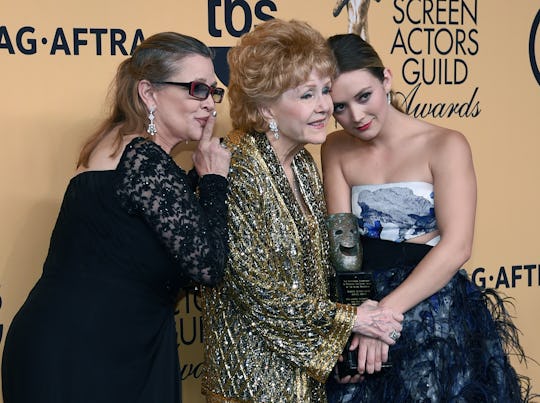 Ethan Miller/Getty Images Entertainment/Getty Images
Carrie Fisher's Daughter Is Known In Her Own Right
This has been a terrible 48 hours for actress Billie Lourd. The young star is the daughter of Carrie Fisher and the granddaughter of Debbie Reynolds, two women who unfortunately passed from cardiac arrest and a stroke, respectively, in the last two days. Lourd, an actor herself, not only lost her mother, who was possibly most recognized for her role in Star Wars, but also her grandmother, who has leaves an incredibly impactful fingerprint on Hollywood herself. But who is Billie Lourd, Carrie Fisher's daughter? The actor has undoubtedly been influenced by the matriarchs of her family, and it's actually pretty incredible.
Lourd is currently starring in a hit show, so it's clear that the very talented apple doesn't fall far from the tree. For the past two seasons, Lourd has played Chanel #3 on Scream Queens with Jamie Lee Curtis, Lea Michele, Emma Roberts, John Stamos, and more. The actress has provided a ton of comedic relief throughout the seasons, something that her mother and grandmother were undoubtedly proud of. How could you not be? Scream Queens is a Fox hit, and if you haven't seen Lourd in all her glory, you're really missing out. (A.k.a., go watch it, now.)
Lourd is also an incredibly successful 24-year-old outside of Hollywood. In 2014, Lourd graduated from New York University, with a double degree in religion and psychology. So, yes. Lourd has gone to school and starred in a huge TV hit in her 24 short years. Not too bad, right?
Following her mother's death, Lourd released the following statement.
"It is with a very deep sadness that Billie Lourd confirms that her beloved mother Carrie Fisher passed away at 8:55 this morning... She was loved by the world and she will be missed profoundly. Our entire family thanks you for your thoughts and prayers."
Like mother, like daughter doesn't even begin to describe this next role that Lourd nailed. For the 2015 film Star Wars: The Force Awakens, Lourd appeared as Lieutenant Connix. And, according to Slashfilm.com, Lourd will have a role in Star Wars: Episode VIII. Her role is unknown at this point, but the significance is pretty outstanding.
Coming up, Lourd will also star in Billionare Boys Club as Rosanna Tickpurth in 2017. So, while her star is just beginning to shine in Hollywood, it's pretty obvious that she has a star, and a place in Hollywood, just like the strong and important women that came before her.