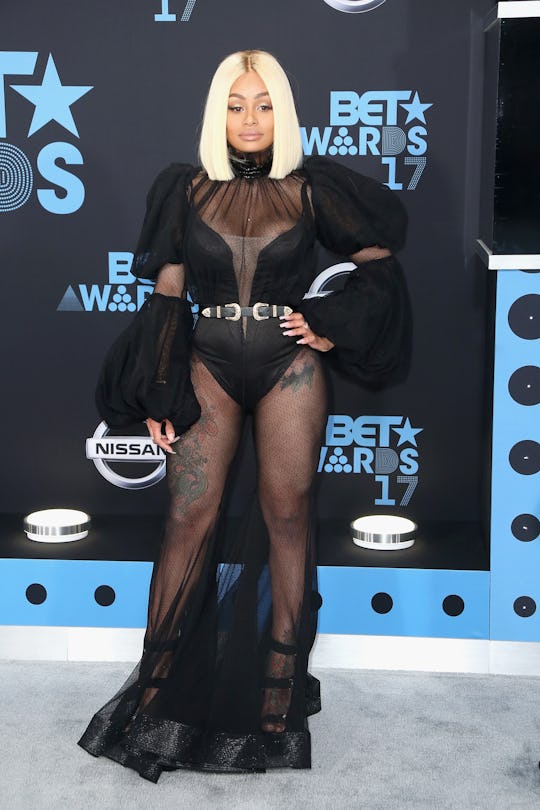 Maury Phillips/Getty Images Entertainment/Getty Images
Blac Chyna Can Date Whomever She Wants
On Monday, a Los Angeles court granted Blac Chyna a temporary restraining against her ex, Rob Kardashian. The order is the latest development in what had been a tumultuous relationship between the celebrity couple. Last week, Kardashian allegedly posted a series of sexually explicit photos of someone he claimed was Chyna on social media. Now, Chyna said there's zero chance she and Kardashian will get back together, and that she wants to focus on coparenting their baby daughter, Dream. Given the turn of events and society's obsession with celebrities' love lives in general, fans will undoubtedly want to know who Blac Chyna is dating. (Kardashian's representative did not respond to Romper's request for comment regarding the restraining order or the photos.)
It important to remember, though, that this isn't a simple case of celebs behaving badly: Chyna's attorney, Lisa Bloom, said outside of the courtroom Monday that "revenge porn is a form of domestic abuse," and that it's illegal in 39 states, California included, according to CNN. Kardashian allegedly shared multiple graphic, since-deleted nude photos of the model/entrepreneur on Instagram Wednesday, in addition to accusing her of cheating on him and using him for his wealth. Kardashian has not been formally charged with any crime, however, and no Chyna hasn't filed any charges alleging domestic abuse.
After the Instagram posts grabbed headlines nationwide last week, Bloom released a statement that, in part, addressed him directly and asserted her clients' autonomy in all aspects of her life:
Mr. Kardashian, you are now on notice: revenge porn is illegal. Cyberbullying your ex is harassment. Chyna ended your relationship months ago and she has the right to live as she chooses, work as she chooses, dress as she chooses, date who she chooses, and be intimate with who she chooses. Chyna and I both believe that this is an important women's rights issue, as too many women and girls have been slut-shamed by exes.
It stops now. Your attempts to shame and control her are hereby rejected.
It's easy to interpret Kardashian's social media stunt as an attempt to slut-shame his ex into submission, as Bloom surely did. And as Bloom so clearly wrote Chyna should have the freedom to date whomever she wants without fear of retribution or shaming.
In the beginning of June, Chyna reportedly told paparazzi that she and her hairstylist Kellon Deryck had been dating for a while when they spotted the two walking down the street together. TMZ soon speculated that she was joking, however. And more recently, just a few days after the Instagram posts went public, the gossip site Celebrity Insider reported that she was dating a man named Rarri True. Citing anonymous, the site claimed that True had bought Chyna $135,648 worth of jewelry — a Rolex watch, a gold necklace, and a pair of diamond earrings — that he then decided not to give her when Kardashian accused her of infidelity. Remember: That's just a rumor, and none of it has been confirmed by Chyna.
The fact is, Chyna will be under more scrutiny than ever now that she's been granted a restraining order and will likely have to make custody arrangements with him, too. She probably will date as well, and some people will be inclined to shame her for that, or to claim that it proves Kardashian right. But the fact is that Chyna retains the same right to do what she pleases in her personal life that any person does — regardless of the high-profile allegations her ex very publicly leveled against her.