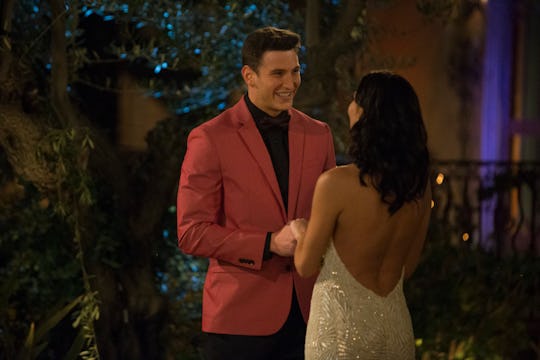 Paul Hebert/ABC
Here's What You Need To Know About Blake On 'The Bachelorette'
Fans of The Bachelorette are eager to get to know Becca Kufrin's suitors ahead of the premiere, and luckily the "After the Final Rose" special offered curious parties with a sneak preview. Several men arrived early to introduce themselves to Becca, but no one made as much of an impression as Blake Horstmann did when he turned up with a real, live horse in tow. Audiences might be interested to know more about him after that. So, who is Blake on The Bachelorette?
Blake is a twenty-eight year old sales rep for Coors Beer. Originally from Bailey, Colorado, Blake attended Hastings College in Nebraska and earned his degree in marking and communications. According to PopSugar, he also knew his way around a football field during his undergraduate days. But, his official Bachelorette bio boasts of special swing dancing skills that he can't wait to use to "sweep the Bachelorette off her feet." Providing ponies and showing off some dance moves could be pretty swoon-worthy if Blake plays his cards right on the show.
So far all viewers know is that Blake wants to be the one to help Becca get back on the metaphorical (and also quite literal) horse after her heartbreaking split from Arie. Thankfully, social media can help fill in the gaps.
Blake has worked for Coors since 2014 in various roles, first as a merchandiser, then as route relief, and finally as an off-premise sales rep. Before that, he was an implementation specialist for the National Research Corporation in Nebraska. On his LinkedIn profile, Blake describes himself as "young, motivated, [and] overachieving" with a "passion for learning." According to him, he's all about experiencing new things and he's not afraid of a challenge.
He also makes a point of discussing how much he enjoys meeting new people and figuring out what their experiences can teach him. Those abilities could prove to be very useful in the Bachelorette mansion. Blake wrote:
I do not shy away from a competitive atmosphere and strive in a culture this is upbeat and progressing [sic]. I take life one step at a time and enjoy the little things. "A year from now you will wish you started today!"
Blake sounds like he was designed to be the ideal Bachelorette contestant, though it's always hard to predict ahead of time who will last until the end of the season. Still, it seems as though he's prepared to deal with the other suitors vying for Becca's affections while still finding ways to stand out from the crowd. There's definitely a chance he'll go far.
Though Blake lives in Denver, he travels quite a lot for Coors, as he mentions that he's "probably out of town" in his Instagram bio and many of the pictures feature him on trips. When he's not working, he seems to enjoy some pretty typical pastimes: going to the gym, hanging out with friends, and wearing suspenders whenever he can. It doesn't look like he generally travels with a horse, but he does have an adorable pup named Remi.
Blake also appears to be taking his new identifier in stride, captioning his Bachelorette headshot with the confirmation: "Yup I'm the Horse Guy. Yup you read that right my last name is Horstmann...You Can't make this stuff up. If you want to join me on my search for love or you want to see if I make a fool of myself on national television tune in Monday May 28 on ABC [sic]."
With a sense of humor about the show and a talent for dealing with tense situations full of new people, Blake might end up excelling as a suitor after all — as long as Becca is charmed by him, too.