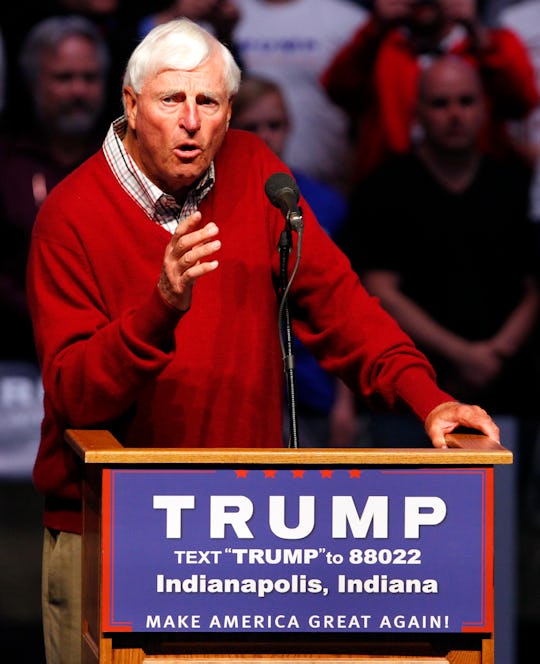 John Sommers II/Getty Images News/Getty Images
Who is Bob Knight? The RNC Speaker Has An Impressive Coaching Career
The Republican National Convention is quickly approaching, and barring any major last ditch efforts by his GOP critics, Donald Trump will accept the official nomination for the Republican party. Before Trump accepts the nomination on Thursday, though, the convention — which starts on Monday in Cleveland, Ohio —will feature speeches from celebrities and politicians alike, all in support of Trump. Before people tune in, they might want to familiarize themselves with the convention's speakers — like Bob Knight. That way, come convention time, they're not asking themselves "Who is Bob Knight?" Because everyone needs to know who this fervent Trump supporter is and why his name rings a bell.
Bob (or Bobby) Knight has had an extensive career in coaching college basketball. At 75, Knight is one of the most legendary college basketball coaches of all time. After playing basketball as a student at Ohio State, Knight went on to coach for West Point, Indiana University (where he spent 29 years), and Texas Tech, before retiring in 2008. At Indiana University, Knight coached his team to win three national championships and made five NCAA Final Four appearances — a huge accomplishment when it comes to college basketball.
Knight has also been known to have a pretty short temper and he often say what he feels without qualms. Knight is also a huge Donald Trump supporter (and Trump loves Knight) — which is exactly why Knight will be speaking at the Republican National Convention in the first place.
Bobby Knight first endorsed Donald Trump on the primary campaign trail in April. During the Indiana primary, Knight was seen as an asset for Trump in a state where Knight is still highly revered.
"He's doing a great job of finding good people and teaching good people," Knight said of Trump in April. "And even as important, he's really good at getting rid of people." Knight also told audience members that Donald Trump could "play him" — an ultimate compliment coming from a former basketball coach.
Knight has also said that Trump is the "most prepared man in history" to be the president. It's a big statement and endorsement coming from a man who knows how to win big, and therefore, it is no surprise that Bobby Knight will speak via video to the Republican National Convention in Trump's honor. What exactly will Knight be talking about? No one's sure exactly what the content of his speech will be, but it will be available to watch when the convention airs on Fox News, CBS, and CNN.
There is no doubt that Bobby Knight is one of the best college basketball coaches that the United States has ever seen. There is also no doubt that Knight is one of the fiercest Trump supporters around. That combination will be sure to make for a great (albeit somewhat interesting) speech at the Republican National Convention.