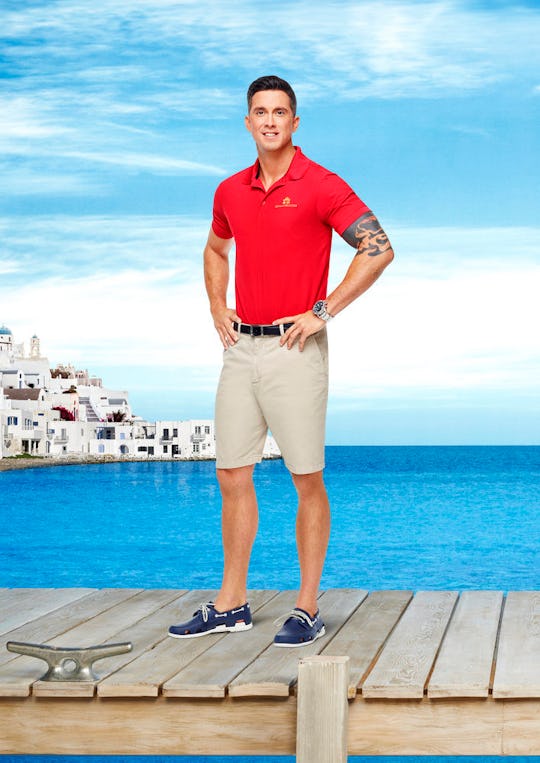 Tommy Garcia/Bravo
Who Is Bobby Giancola On 'Below Deck Mediterranean'? He Used To Be A Firefighter
Bravo's brand new Below Deck Mediterranean follows the crew of a luxury yacht sailing through the gorgeous Greek islands, catering to rich clients and sniping at each other. It's all the fun of the Real Housewives contained in one small boat on the open sea for weeks at a time. The upcoming season looks to be delightfully drama filled, but until it starts it wouldn't hurt to get a little bit better acquainted with the cast, like Bobby. If you catch the premiere, you might be wondering who Bobby Giancola is on Below Deck Mediterranean?
Bobby is a deckhand from Florida who only recently chose to get into the luxury yacht service business. Previously, he had been a maritime firefighter for ten years, as well as an instructor at a maritime academy who taught how to put out fires on cruise ships. He's also coming off a pretty bad breakup, which is sure to mean you can expect some on-boat romantic shenanigans from him – his Bravo bio does describe him as "single and ready to mingle," after all. Bobby's bio goes on to characterize him as a partier with a big personality and a "huge heart," but even being the life of the party probably won't prevent some stir-crazy boat conflict with the other members of the crew.
Bobby had lived and worked in Cocoa Beach before his six week term on the yacht, where his responsibilities shifted a lot from firefighting. Despite how different his yacht job is from his firefighting work, his experience came in handy when it came to looking after the safety of the boat and inhabitants. He's also trained as an EMT, which was helpful any time anyone needed a little medical assistance.
In an interview for the podcast The Bevs, Bobby promised that Below Deck Mediterranean would contain both drama and romance that follows the crew from their busy days at work to their off days partying. He categorizes deckhands as "the fun guys," who get to take the guests out to the beach, help them with various water sports, or take them jet skiing. While that comes with its own challenges (clients can be difficult and demanding), it also offers up its own share of adventures and lets him have some pretty incredible experiences.
"I'm very unfiltered so sometimes that could get me into trouble, but I'm a strong believer in standing up for yourself and other people," Bobby told Florida Today. "If somebody's pissing me off, I'm going to tell 'em, and they might not like it."
Sounds like he's a perfect fit for Bravo.