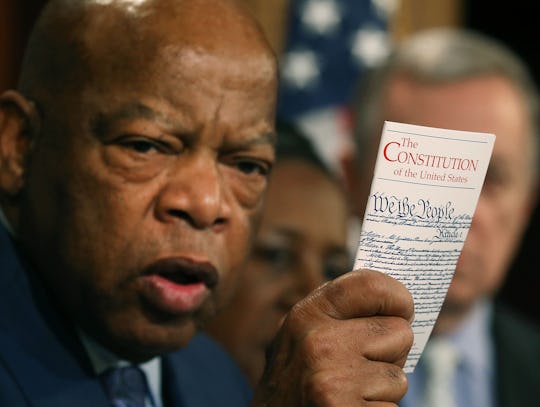 Mark Wilson/Getty Images News/Getty Images
The List Of Reps Boycotting Trump's Inauguration
As unreal as it may seem, President-elect Donald Trump is still set to take the oath of office on Friday as the 45th President of the United States. With only four days until Inauguration Day, you would think his historic swearing-in ceremony — for better or for worse — would be the hottest ticket in our nation's capitol — but there are many who have chosen not to be there to witness this historic occasion. Who is boycotting Trump's inauguration? As of Monday, more than two dozen House Democrats are boycotting the inauguration — and there's still plenty of time before Friday if more wish to join them, too.
Boycotts as a form of protest are nothing new, but Illinois Rep. Luis Gutiérrez announced he was boycotting the inauguration back in December, paving the way for more than two dozen other members of Congress to join him since then. Just after the new year, Massachusetts Rep. Katherine Clark then joined her colleague on the Hill by tweeting out a statement that she too would boycott the inauguration: "I do not feel that I can contribute to the normalization of the President-elect's divisive rhetoric by participating in the Inauguration," her Jan. 5 tweet said.
Perhaps one of the most prominent statements has come from Georgia Rep. John Lewis on Friday's Meet the Press, who said, "I don't see this president-elect as a legitimate president." When NBC News host Chuck Todd asked for further comment, Lewis said he would not be attending the inauguration. He noted it would be the first presidential inauguration he would miss in his entire congressional career of nearly 30 years. "You cannot be at home with something that feels wrong," Lewis continued.
Trump refused to let Lewis's comments go without comment of his own, responding officially via a series of tweets on his Twitter account on Friday afternoon. In one of his tweets, Trump called Lewis "all talk" and "no action, no results." Trump called on Lewis to focus on his own "crime-infested district." Lewis was one of the youngest Freedom Riders during the civil rights movement, surviving numerous beatings and arrests during his years as a prominent civil rights activist. Trump's tweets dismissive of Lewis and his contribution to the civil rights movement — made just days before Martin Luther King, Jr. Day — have run afoul of many on the Hill, with even more members of Congress joining Lewis in solidarity by boycotting the inauguration.
Speaking to BuzzFeed, the Congressional Black Caucus has not issued a formal boycott the inauguration and instead are leaving the decision to attend or not up to its individual committee members. California Rep. Maxine Walters, former chair of the Congressional Black Caucus, was as dismissive of Trump as he was of Lewis on Twitter Sunday:
Twitter collective reacted:
Fusion has been keeping a running list of all the members of Congress boycotting the inauguration, and, with still four days left and Trump's unrestricted access to Twitter — or, just opening his mouth in general — I'm betting dollars to donuts that list of congress men and women boycotting of the inauguration will grow.