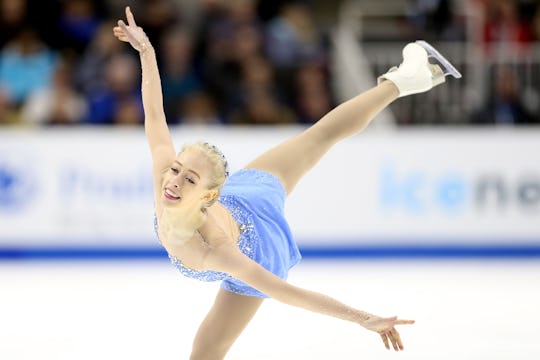 Matthew Stockman/Getty Images Sport/Getty Images
Who Is Bradie Tennell? Here's What You Need To Know About The Team USA Figure Skater
Who knew that there could be a true Cinderella story in figure skating? With the Winter Olympics already here, many people may find themselves asking, who is Bradie Tennell and where did she come from? It seems like Tennell has made her way up in the sport rather quickly and is already a champion skater. She won the 2018 U.S. Figure Skating Championship, with a score of 219.51 and now she is representing the United States in the Winter Olympics in PyeongChang.
"There are moments where it'll hit me and I'll be like, 'wow, three months ago I was nobody and now I'm U.S. champion.' It's a great feeling," Tennell said in an interview with NBC Olympics. Tennell just started competing on a higher level of skating one year ago, according to Fox 25 Boston, so to earn a ticket to the Olympics in that time is truly impressive.
And her road to the Olympics was anything but easy. In 2015, Tennell learned she had a back injury that landed her in a back brace for the summer, according to NBC Olympics. A year later, her injuries continued and she found out she had a stress fracture in her back. Through physical therapy, exercise, and other treatments, according to NBC Olympics, she was able to work her way to a recovery.
Growing up, Tennell was raised by a single mother and she stated on her Instagram account that her mom, Jean, has been very supportive of her skating career. Tennell also has two brothers named Austin and Shane. According to the Chicago Tribune, Tennell said:
Throughout my entire journey, my family has been my No. 1 supporter. These three were here every day while I was practicing, sitting up in the bleachers. And Shane, he would dance in the bleachers when I had music on, and you know it just made me laugh.
Jean Tennell will be at her daughter's side at the Winter Olympics, but there may not be enough money for her sons to attend. Because of this, a GoFundMe page has been created by a family friend named Michelle McNamara, with the purpose of raising enough money to send Shane and Austin to PyeongChang. On the fundraiser page, McNamara wrote that:
After achieving the dream of representing the U.S.A. for figure skating in the 2018 Winter Olympic Games in PyeongChang South Korea, Bradie Tennell would love nothing more than for her younger brothers, Austin and Shane to watch her compete for her country. Bradie's mom Jean, a single mother of 3, and a registered nurse, works 2 jobs to make ends meet on a daily basis. Because of this, there's no extra money to bring her sons to PyeongChang ... As a close friend of Bradie's family, I would love to be able to have these amazing boys attend the games and cheer their sister on.
The GoFundMe page has raised over $12,000 for the Tennells.
According to PopSugar, the reason that Tennell is such an unknown skater is that she just made her international debut as a senior figure skater in the 2016-2017 season. Last year, she finished in 9th place at the national championships, so coming back in 2018, winning first place is a major improvement. But, competing in the Olympics can add a ton of pressure. Even so, Tennell appears to be confident in her abilities, as she told The New York Times:
I've never been a nervous competitor. I've always really enjoyed competing in the energy of the arena ... There's the initial butterflies, but I kind of start to lose myself and keep going.
Hopefully, this energetic Cinderella can win herself a happy ending in the Winter Olympics.
Check out Romper's new video series, Romper's Doula Diaries:
Watch full episodes of Romper's Doula Diaries on Facebook Watch.